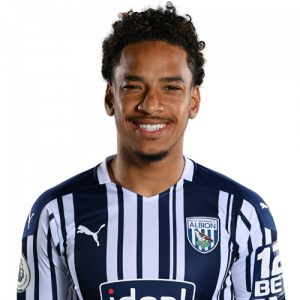 Matheus Fellipe Costa Pereira (born 5 May 1996) is a Brazilian professional footballer who plays as an attacking midfielder or right winger for Premier League club West Bromwich Albion.
On 8 August 2019, Pereira joined West Bromwich Albion on an initial season-long loan with a view to a permanent move. He scored his first goal in the Championship on 28 September, in a 2–0 away win against Queens Park Rangers.
On 20 June 2020, after the player had appeared in the required number of matches, a buyout clause was triggered, obligating the club into Pereira's purchase. The following month, he won the Supporters' Player of the Season award after collecting 65% of the votes.
Despite the buyout clause being met months earlier, it took until 17 August 2020 for Pereira to be officially announced as an Albion player, eventually signing a four-year contract. To ensure the player's focus remained on the field, the board decided to leave the negotiations until after the season had ended.
Pereira made his Premier League debut on 13 September 2020, playing the entire 0–3 home loss against Leicester City. He scored his first goal six days later, through a direct free kick in a 5–2 away defeat to Everton.
On 3 April 2021, Pereira scored a brace in first-half stoppage time in an eventual 5–2 win at Chelsea. This sealed Albion's first victory at Stamford Bridge since 1978, and handed Thomas Tuchel his first loss as the opposition's head coach.