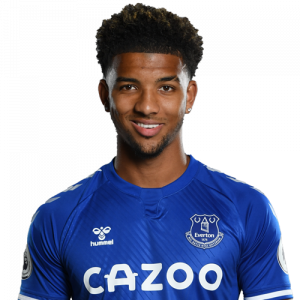 Mason Anthony Holgate (born 22 October 1996) is an English professional footballer who plays as a centre-back for Premier League club Everton.
On 13 August 2015, Holgate signed a five-year deal to join Premier League side Everton for a reported fee of £2 million. On 13 August 2016, a year after he signed for the club, Holgate made his Premier League debut in the 1–1 draw with Tottenham Hotspur in the Premier League. As Séamus Coleman suffered a broken leg in a World Cup qualifier game in March 2017, which caused him missing out for nearly a year, Holgate was selected by Ronald Koeman as a replacement at the right back position in the latter part of season.
Holgate switched his squad number from 30 to 2 for the 2018–19 season, as the previous owner, French midfielder Morgan Schneiderlin wore number 18 instead. Yet the move did not mean Holgate played a more important role within the season. He only made five league appearances before loaned out to West Bromwich Albion.
On 29 October 2019, Holgate started for the EFL Cup game against Watford. He scored the opener by nodding Theo Walcott's cross on the 73rd minute and this was his first ever goal for Everton. Richarlison scored another in stoppage time and helped Everton book their place in the quarter-finals of the Cup. He scored no goals in the Premier League but provided three assists. He played a through pass breaking the line and let Dominic Calvert-Lewin put the ball pass Matt Ryan in an easy way.
Following the arrival of Carlo Ancelotti, Holgate established himself as a regular centre back at Everton although he was deployed as defensive midfielder on some occasions. In the 2019–20 season, he made 32 appearances for the Toffees in all competition, including 27 in the league.
After Jonjoe Kenny finished his season-long loan spell at Schalke 04, he took up the number 2 shirt and Holgate took number 4 this time. Holgate left injured in a pre-season game with Preston North End, which kept him out of action for two months. He was named as captain for a home game against Leeds United on 28 November 2020, a game which Everton went on to lose 1–0. On 16 December 2020, He scored his first Premier League goal in a 2–0 away win against Leicester City.