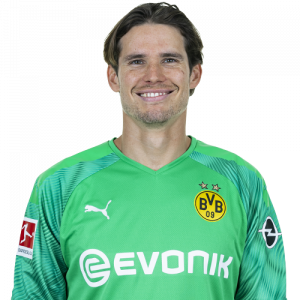 Marwin Hitz (born 18 September 1987) is a Swiss footballer who plays as a goalkeeper for Borussia Dortmund in the Bundesliga.
Hitz scored a stoppage-time equalizer in a league match against Bayer Leverkusen in a 2–2 draw on 21 February 2015.
International career
On 10 June 2015, he won his first cap for Switzerland in a 3–0 friendly win over Liechtenstein at Stockhorn Arena in Thun.
He was part of the squad for the 2016 European Championships, but never made it to any match. Ultimately, his team was eliminated 1 / 8th away from Poland on penalties 5–4.
Pitch sabotaging incident
On 5 December 2015, Hitz intentionally sabotaged the ground near the penalty spot after a penalty was awarded to 1. FC Köln in their match against Augsburg. Anthony Modeste missed the penalty, and Augsburg went on to win the match 1–0. Hitz later apologised for his actions. Hitz was billed €122.92 by 1. FC Köln for the damage he caused to the pitch, which he agreed to pay.