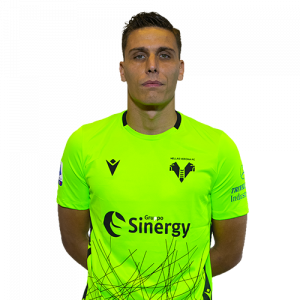 Marco Silvestri (born 2 March 1991) is an Italian professional footballer who plays as a goalkeeper for Italian club Hellas Verona.
Before joining Verona in 2017, he played in England for Leeds United and in Italy for Chievo, Reggiana, Padova and Cagliari. Silvestri has represented his country at under-20 and under-21 level.
Modena
Born in Castelnovo ne' Monti, the Province of Reggio Emilia, Emilia–Romagna, Silvestri started his career at Emilia club Modena. He was the third keeper behind Enrico Alfonso and Antonio Narciso in 2009–10 season.
Chievo
In August 2010, Silvestri was signed by Serie A club Chievo on a temporary deal, with an option to purchase half of his registration rights. He was the third keeper of the team, behind Stefano Sorrentino and Lorenzo Squizzi. Silvestri also became the first choice keeper at the "spring" under-20 team. In June 2011 Chievo exercised the option to sign Silvestri in a co-ownership deal, for €300,000.
Reggiana loan
Silvestri returned to Reggio Emilia for Reggiana in July to replace Niccolò Manfredini. However Silvestri became the backup of Niccolò Bellucci since round 12. After the winter break Silvestri re-affirmed as first choice. In June 2012 Chievo signed Silvestri outright for another €150,000.
Padova loan
In July 2012 he left for Padova. The club failed to renew the loan of fellow U21 internationals Mattia Perin. Silvestri wore no.1 shirt for Padova in new season and would compete with ex-internationals Ivan Pelizzoli who acted as second-choice last season. However, on the last day of the transfer window, Pelizzoli rejoined Perin in Pescara and Luca Anania, who became second choice in the same club, left for Padova.
Cagliari loan
On 30 January 2014, Silvestri signed for Cagliari on loan, including the option for Cagliari to acquire half his ownership rights at the end of the season, the move saw Cagliari first choice Goalkeeper Michael Agazzi join Chievo on a permanent deal.
Silverstri was given the number 1 shirt. He made his debut for the club in the Serie A match against Parma on 27 April, coming into the side for Vlada Avramov, keeping a clean sheet on his debut in a 1–0 win. On 6 May, Silvestri started the match against S.S.C. Napoli, a game in which Silvestri was given a straight red card in a 3–0 loss after fouling Goran Pandev. After returning from suspension he returned for the final match of the season in a 3–0 loss against Juventus.
On 27 June, Silvestri's agent Francesco Romano, revealed that Silvestri was in talks over a move to English club Leeds United, owned by former Cagliari owner Massimo Cellino.
Leeds United
On 8 July 2014, Silvestri left Chievo for a fee of €1 million, and signed a four-year contract with English club Leeds United along with fellow Italian Tommaso Bianchi. Silvestri's first appearance for Leeds came on 11 July in Leeds' first pre–season game, which resulted in a 16–0 victory against Italian side FC Gherdeina. On 1 August, Silvestri was assigned the Leeds number 1 shirt for the 2014–15 season. Silvestri made his debut for Leeds on 9 August against Millwall. Silvestri kept his first clean sheet for Leeds in his home debut at Elland Road on 16 August in Leeds' 1–0 victory against Middlesbrough after a goal by Billy Sharp.
Hellas Verona
On 18 July 2017, Silvestri played the full 90 minutes of a closed-door friendly between Leeds and Bursaspor, but the next day he travelled to Verona to complete a transfer to Serie A club Hellas Verona, for an undisclosed fee.