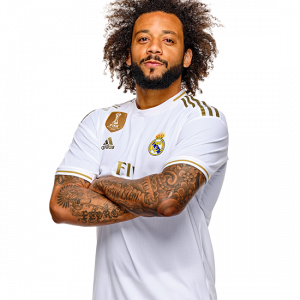 Marcelo Vieira da Silva Júnior (born 12 May 1988), known as Marcelo, is a Brazilian professional footballer who plays as a left back for Spanish club Real Madrid, whom he captains and the Brazil national team.
He is widely considered as one of the greatest left-backs of all time.
In 2005, Marcelo won a Campeonato Carioca with Fluminense and in 2006, he was named to the Brasileirão Team of the Season, at age 18. By the end of the year, he joined Real Madrid for an $8 million fee. There, he established himself and won 22 trophies including four UEFA Champions Leagues, (being elected to the Squad of the Season three times) as well as five La Liga titles. He has been named to the FIFPro World XI six times, the UEFA Team of the Year three times and La Liga's Team of the Season in 2016.
Marcelo debuted for Brazil in 2006 against Wales, scoring a goal. He was called up for the 2008 Olympic squad, where he won a bronze medal. Four years later, he was part of Brazil's 2012 Olympic team, as one of the three over-age players, where Brazil won a silver medal. Marcelo was selected as a member of Brazil to play in the 2013 Confederations Cup and started all five matches, as Brazil won 3–0 against Spain in the final. He was part of Brazil's squad in the 2014 FIFA World Cup which was his first World Cup. Brazil reached the semi-finals and he was named to the tournament's Dream Team. In May 2018, he was named in the final squad for the 2018 FIFA World Cup where he once again was named to the tournament's Dream Team.
Marcelo joined Real Madrid during the January transfer window in 2007. On his arrival, club President Ramón Calderón said, "He is an important signing for us. He is a young player who will inject some freshness into the side and is part of our plan to bring younger players into the squad. We're very happy because he's a pearl that half of Europe wanted." Many spectators hailed him as Brazilian and Real Madrid great Roberto Carlos' potential successor in the left-back role.
In May 2019, he was excluded from Brazil's final 23-man squad for the 2019 Copa América by manager Tite.