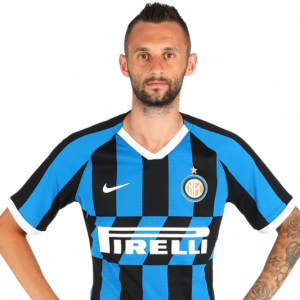 Marcelo Brozović (born 16 November 1992) is a Croatian professional footballer who plays as a defensive midfielder for Serie A club Inter Milan and the Croatia national team.
He represented his nation at the 2014 and 2018 editions of FIFA World Cup, and also at UEFA Euro 2016.
In the 2018–19 season, Brozović made his first UEFA Champions League appearance for Inter on 18 September in the opening Group B match in a 2–1 comeback win versus Tottenham Hotspur. He netted his first goal of the campaign four days later, a 94th-minute winner over Sampdoria in round 5 of Serie A.
On 26 August 2019, he scored Inter's first goal of the season in a 4–0 victory over Lecce. On 21 September he scored the opener in a 2–0 victory over Milan in Derby della Madonnina. On 9 February 2020, Brozović captained Inter in another Derby della Madonnina and scored in the 4–2 victory. On 17 August, in a Europa League semi-final, he provided Danilo D'Ambrosio with an assist for the second goal in a 5–0 victory over Shakhtar Donetsk at Merkur Spiel-Arena. Four days later, he was named in the starting XI for the final against Sevilla, providing Diego Godín with an assist for Inter's second goal. Nevertheless, Sevilla won the trophy after a 3–2 victory over the Nerrazzuri.
On 2 May 2021, four matchdays before the end of the season, Sassuolo drew 1–1 with Atalanta at home, meaning that Inter mathematically secured the Serie A title. It was Inter's first league title since 2009–10 season, ending Juventus' nine-season-long league-winning streak. The title was also Brozović's first trophy with the Nerrazzuri.