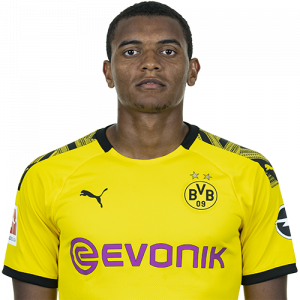 Manuel Obafemi Akanji (born 19 July 1995) is a Swiss professional footballer who plays as a defender for Borussia Dortmund and the Switzerland national team.
Youth football
Born in Wiesendangen, Akanji began his youth career with the local club in Wiesendangen. In May 2007, Akanji changed clubs and was a youth-team player for FC Winterthur. During his early years, he played for their Under-18 team and later with their second team. In the 2014–15 Challenge League, he was in Winterthur's starting eleven, having played two games for them during the previous season.
Basel
On 15 April 2015, it was announced that Akanji would transfer to Basel for the 2015–16 Super League season. He made his Swiss Super League debut on 26 September 2015 being substituted in against FC Lugano. Under trainer Urs Fischer, Akanji won the Swiss Super League championship at the end of the 2015–16 Super League season and at the end of the 2016–17 Super League season for the second time. For the club this was the eighth title in a row and their 20th championship title in total. They also won the Swiss Cup for the twelfth time, which meant they had won the double for the sixth time in the club's history.
As Swiss Champions, Basel qualified for the 2017–18 UEFA Champions League and started in the Group stage. Akanji played in all six games over the full 90 minutes and helped the team finish in second group position, thus qualifying for the next round. On 15 January 2018, Basel announced that Akanji had transferred to Borussia Dortmund.
Borussia Dortmund
Akanji transferred to Borussia Dortmund on 15 January 2018 during the winter transfer window for a reported fee of 18 million euros. He signed a four and a half year contract dated until June 2022. On 27 September, Akanji scored his first goal for the club and his first Bundesliga goal in a 7–0 victory over 1. FC Nürnberg. Akanji was widely criticised for his costly errors during Dortmund's failed challenge to Bayern during the 2019/20 season. Akanji was one of the main players singled out as a weak link in the team.