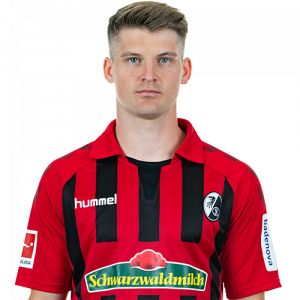 Lukas Kübler (born 30 August 1992) is a German professional footballer who plays as a centre-back for SC Freiburg.
Kübler began playing football at the age of probably three years with the Bambinis of VfR Hangelar in Sankt Augustin. Later he went through the youth department of 1. FC Köln, before he had to leave the club at the age of 15 due to being too small.  He then joined the Sportfreunde Troisdorf, and after a year moved on to Bonner SC, where he played in both the men's and youth teams. With the Bonn A-Juniors he was Middle Rhine Champion 2010 and Cup winner 2011.  In 2011 he went back to 1. FC Köln. There he was mainly used in the second team. However, he was also often in the first team squad. On August 27, 2012, he made his debut in the 2nd Bundesliga against FC Erzgebirge Aue.
For the 2013/14 season Kübler moved within the 2nd Bundesliga to SV Sandhausen. He signed a contract for two seasons until June 30, 2015. He made his debut for the sand houses on December 13, 2013 (18th matchday), when he defeated VfR Aalen in the 54th minute for Matthias Zimmermann was substituted on.  While Kübler was rarely used in his first season due to injury, he gained a regular place as a right defender in the 2014/15 season and played a significant role in staying up.
For the 2015/16 season, Kübler again moved to SC Freiburg for free within the 2nd Bundesliga.  Due to an injury, he did not play a competitive game there in his first season.
For the 2016/17 season, Kübler survived his knee problems after more than 10 months  and was able to participate in team training for the first team again. This was followed by several games in the second team of SC Freiburg in order to gain match practice [6]. On December 3, 2016, Kübler celebrated his Bundesliga debut in the starting line-up and was replaced in the 72nd minute. The game between Bayer 04 Leverkusen and SC Freiburg ultimately ended 1-1.