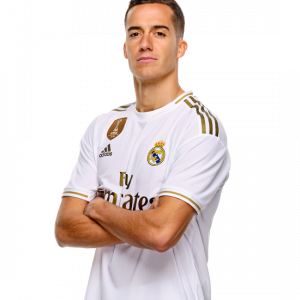 Lucas Vázquez Iglesias (born 1 July 1991) is a Spanish professional footballer who plays for Real Madrid and the Spain national team as a right winger or right-back.
Starting his career at Real Madrid, he made his first-team debut in 2015 after a season on loan at Espanyol. He made his La Liga debut with the latter. Since returning to Real Madrid in 2015 he has appeared in more than 200 matches for the club and has won 12 major trophies including three Champions Leagues and two La Liga titles.
Vázquez represented Spain at Euro 2016 and the 2018 World Cup.
On 30 June 2015, Real Madrid exercised their buyback clause and Vázquez returned to the club. He made his debut on 12 September in a 6–0 away win over his former team Espanyol, and his first start came a week later, in a 1–0 home defeat of Granada CF.
Vázquez scored his first competitive goal on 30 December 2015, replacing Karim Benzema for the final 15 minutes of the league fixture against Real Sociedad and netting in a 3–1 success at the Santiago Bernabéu Stadium. He contributed with seven appearances in the season's UEFA Champions League, as the tournament ended in a win; in the final against Atlético Madrid, he again came on for the Frenchman late into the second half of a 1–1 draw, and converted his attempt in the penalty shootout triumph.
Vázquez started the 2016 UEFA Super Cup against fellow Spaniards Sevilla FC, providing an assist to Sergio Ramos in injury time to take the game to extra time, where Real Madrid eventually won 3–2. He signed a new contract on 26 October 2016, running until 2021.
Vázquez appeared 33 times during 2016–17 and scored twice, helping Real Madrid to its first league in five years. He added ten matches in the campaign's Champions League, scoring once in the group stage as his team also conquered the latter tournament.
Vázquez made ten appearances during the 2017–18 Champions League and added one goal, when Madrid won their third consecutive and 13th overall title in the competition.
In November 2019 he broke his toe after dropping a weight on it. After returning, he made 18 appearances during the league season, as Real Madrid won the 2019–20 La Liga.
Being a regular started during the 2020–21 season, he injured himself on 10 April 2021, in a 2–1 El Clásico win over FC Barcelona and was ruled out for the remainder of the season with a Posterior cruciate ligament injury in his left knee. On 3 June 2021, he signed a new three-year contract, which keeps him until 2024 at Madrid.