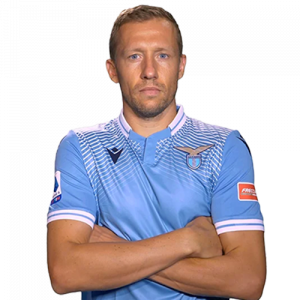 Lucas Pezzini Leiva (born 9 January 1987), known as Lucas or Lucas Leiva, is a Brazilian professional footballer who plays as a defensive midfielder for Serie A club Lazio.
Lucas began his career as a box-to-box midfielder at Grêmio where he won the Campeonato Gaúcho in 2006 and 2007. In July 2007 he moved to Liverpool, where he played 347 professional matches over the course of a decade, winning the League Cup in 2012. Between 2010 and 2016 Lucas led the Premier League in tackles per game five times in six seasons.He has the most tackles in Premier League history. He also remains the Brazilian with the most Premier League appearances. He joined Lazio in 2017.
A full international since 2007, he has earned 24 caps and represented Brazil at the 2008 Olympics and 2011 Copa América, winning a bronze medal at the former. He also captained the under-20 team to victory in the 2007 South American Youth Championship.
e finished the season with 50 appearances in all competitions and was named the club's player of the year.