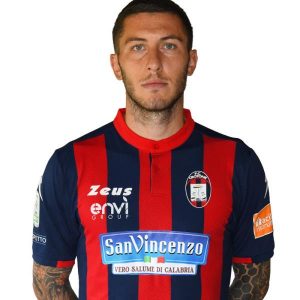 Luca Marrone (born 28 March 1990) is an Italian footballer who plays as a midfielder for Serie A club Crotone.
Early career
Born in Bosconero, a comune in the Province of Turin, Marrone began playing football with local club Lascaris in 1995 at the age of five and was scouted by provincial giants Torino and Juventus. A childhood Juventus fan, he chose the latter and joined their youth system at age eight.
Juventus
At age eight, Marrone joined the Juventus youth system and made his way through the ranks of the youth sector all the way through to the Primavera (under-20) youth squad for the 2007–08 season.
Sassuolo
Initially part of the first-team plans for Juventus prior to the start of the 2013–14 Serie A season, Marrone was sold to newly promoted Serie A side Sassuolo on 2 September 2013 on a co-ownership deal. The deal served as an exchange for 50% of the contract of Sassuolo's Domenico Berardi, who joined Juventus on a co-ownership deal but remained at Sassuolo on loan for the 2013–14 campaign.[10] Marrone's season with the neroverdi began well, but was ultimately hampered by injuries that limited the midfielder to just 15 league appearances. On 20 June 2014, the co-ownership deal was renewed between Sassuolo and Juventus, with Sassuolo retaining the playing rights for the player.
Return to Juventus
On 3 July 2014, however, Marrone returned to Juventus once more after Juventus bought out the remaining 50% of his contract from Sassuolo in a deal worth €5 million (€500,000 plus the transfer of Federico Peluso). He also signed a five-year contract that binds him to Juventus until 30 June 2019.
Verona (loan)
Marrone joined Verona on loan from Juventus on 28 January 2016. He made his debut on 7 February 2016 against Internazionale for the club where Hellas Verona were fighting from relegation. Marrone provided three assist to all three goals which ended as draw.
Bari (loan)
On 26 August 2017 Marrone joined Bari.
Second loan to Verona
On 4 August 2018, Marrone re-joined Verona on another season-long loan with an obligation to buy.
Loan to Crotone
On 29 August 2019, Marrone joined Crotone on loan until 30 June 2020.