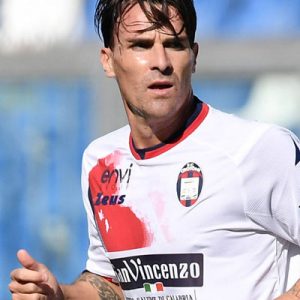 Luca Cigarini (born 20 June 1986) is an Italian professional footballer who plays for Crotone as a midfielder.
Parma
Cigarini was one of the notable youth products in the 2005 Parma squad, alongside Daniele Dessena.
Atalanta
After Parma was relegated to Serie B in June 2008, Cigarini was sold to Atalanta in join-ownership bid, for €4.5 million on 11 July.
Napoli
On 3 July 2009, Cigarini signed for Napoli from Atalanta on a five-year deal for €10.5 million. Atalanta paid Parma €3.5 million plus half the registration rights of Alessio Manzoni to sign Cigarini outright.
On 2 August 2010, Cigarini joined Sevilla FC on a loan deal for the 2010–11 season who paid €292,500 for the loan and, upon conclusion of the season, had the option to purchase the midfielder for €7 million.
Return to Atalanta
Cigarini returned to Atalanta on loan in summer 2011 for free. On 4 July 2012, the loan was renewed for €1.25 million loan fee.
On 5 July 2013, after spending two seasons on loan with Atalanta, a co-ownership deal was agreed to with Napoli for €2.75 million. Cigarini continued to play for Atalanta for the upcoming 2013–14 Serie A season. Cigarini scored his first goal of the season against Lazio on 20 October. In June 2014 Atalanta acquired Cigarini outright for €2.35 million. Atalanta paid €5.75 million transfer fee in total to re-acquire Cigarini.
Sampdoria
After spending five years with Atalanta, Cigarini made the switch from Bergamo to Genoa, signing a permanent deal with Sampdoria.
Cagliari
In 2017, Cigarini moved to Serie A rivals Cagliari in an exchange deal with Nicola Murru.
Crotone
On 8 September 2020, Cigarini signed with Crotone a 2-years contract.