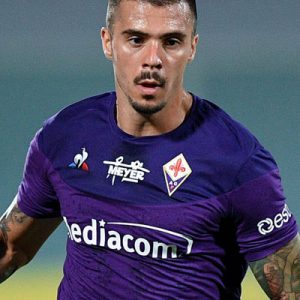 Lorenzo Venuti (born 12 April 1995) is an Italian footballer who plays as a defender for Serie A club Fiorentina.
Born in Montevarchi, Tuscany, Venuti started his career at Tuscan club Fiorentina. On 30 July 2014, he was signed by Serie B club Pescara on a temporary deal, with an option to sign him outright. Venuti was assigned the number 23 shirt for the first team. However, he was only able to play for their reserve team as an overage player. On 27 June 2015, Pescara excised the option to sign Venuti outright, but La Viola also excised the counter-option.
On 16 July 2015, he was signed by Lega Pro newcomers Brescia on a temporary deal, with an option to buy. Brescia was confirmed as the replacement of Parma in the 2015–16 Serie B on 4 August. On 2 August, Venuti made his professional debut against Cremonese, in the 2015–16 Coppa Italia. He was partnered with his former national team teammate Michele Somma in the defensive line-up.