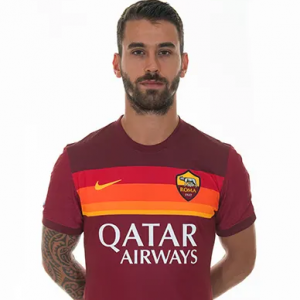 Leonardo Spinazzola (born 25 March 1993) is an Italian footballer who plays as a left-sided midfielder or wing-back for Serie A club Roma and the Italy national team.
On 1 July 2019, Leonardo Spinazzola joined Roma from Juventus for €29.5 million, signing a four-year contract with the club, while Luca Pellegrini moved in the opposite direction. In January 2020, Spinazzola was close to a transfer move to Inter Milan in exchange for Matteo Politano yet the deal collapsed at the last minute as Inter was not entirely satisfied with Spinazzola's physical conditions.
Although naturally right-footed, Spinazzola prefers playing on the left flank, either as a full-back, wing-back, or winger; a versatile player, he is also capable of playing on the right side of the pitch. A quick, athletic, and offensive-minded player, he is known for his stamina, world class speed and acceleration, physicality, and his polished dribbling skills, which enable him to beat his man in one on one situations on the wing with feints or changes of pace. He is also capable of playing the ball first time, cutting into the centre and providing in-swinging crosses to teammates, or providing depth to his team with his attacking runs down the flank. Defensively, he is known for his anticipation and ability in the air. His versatility, characteristics, role, and playing style have drawn comparisons with former Italy and Juventus wing-back Gianluca Zambrotta, whom Spinazzola himself has cited as one of his major influences.