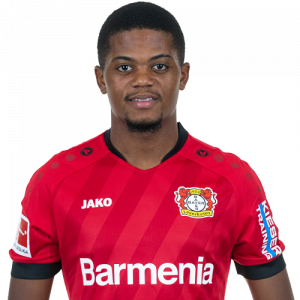 Leon Patrick Bailey Butler (born 9 August 1997) is a Jamaican professional footballer who plays as a winger for Bundesliga club Bayer Leverkusen and the Jamaican national team.
Early career
Bailey grew up in the Cassava Piece area of Kingston, Jamaica. He played for the Phoenix All-Star Academy operated by his adoptive father, Craig Butler. In 2011, Butler arrived in Europe to find a club for Bailey and Butler's biological son, Kyle. They wandered around Austria, Germany and Holland, before ending up in KRC Genk, where Bailey went on trial in the beginning of 2012. Genk was convinced of his qualities, but because of the very strict regulations on minors by FIFA, they couldn't offer him a contract. So, the club made Leon Bailey sign a draft agreement when he was only 15 years old, which is illegal in Belgium. Bailey moved into a house in As, near Genk. After Butler left for Mexico, initially to formalize his move to Belgium, he went missing for four months. In these four months Genk took care of the minor children, who at that time were without parents or a legal guardian illegally residing in Belgium. When Butler returned after four months, KRC Genk offered him a job with a sponsor of the club. This was the only way to try and bend FIFA rules on minors. After the Labour Ministry heard of the matter, they raided KRC Genk, and Butler and his players had to retreat. So, he went to Standard Liege, but the transfer wasn't approved because Butler had no work permit. As a result, they could not legally reside in Belgium.
Genk
Bailey joined K.R.C. Genk in 2015 from Trencin. He made his Belgian Pro League debut on 21 August 2015 in a 3–1 away defeat against Sint-Truiden replacing Siebe Schrijvers after 62 minutes. He scored his first professional goal for KRC Genk on 21 November versus OH Leuven. At the end of the 2015–16 season he won the Belgian Young Footballer of the Year award. His goal in the Europa League against Rapid Wien on 15 September 2016 was chosen as the top goal of the competition for the 2016–17 season by UEFA.
Bayer Leverkusen
Bailey joined Bayer Leverkusen in January 2017 for a fee of €20 million, after interest from Manchester United and Chelsea. He made his debut for Leverkusen on 3 February 2017, in a 1–0 defeat against Hamburg. His Champions League debut came on 24 February 2017, in a 2–4 defeat against Atlético Madrid. He made 10 appearances for Leverkusen in his first half season at the club.
He scored his first goal for the club on 11 August 2017, in the first game of the 2017–18 season in a 3–0 victory in the German Cup against Karlsruher SC. His first league goal for the club came on the 29 September against FC Schalke 04. He finished the season scoring 12 goals in 34 games in all competitions, helping guide Bayer Leverkusen to a fifth place finish in the Bundesliga. On 30 November 2019, he scored twice in a 2–1 win over champions Bayern Munich, one goal with each foot.