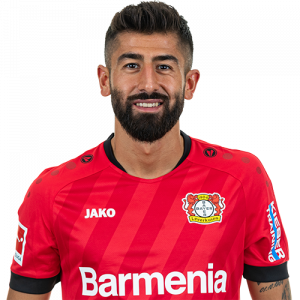 Kerem Demirbay (born 3 July 1993) is a German professional footballer who plays as a midfielder for Bundesliga club Bayer Leverkusen. A former youth international for Turkey, Demirbay switched to represent Germany.
Borussia Dortmund
After spending a year in their youth setup, Demirbay was promoted to Borussia Dortmund II playing in third tier 3. Liga. On 21 July 2012, the first matchday of the 2012–13 season, he came to his debut in professional football in an away game against VfL Osnabrück, replacing Konstantin Fring from the bench. He scored in the 1–2 home defeat against 1. FC Saarbrücken.
Hamburger SV
In the 2013–14 winter break, he agreed to join Hamburger SV on a free transfer in July 2014. After injury issues and several caps for their second team in fourth tier Regionalliga, he made his Bundesliga debut in the 1–3 home defeat by VfL Wolfsburg on 19 April 2014.
1. FC Kaiserslautern
Although performing well in 2014–15 pre-season games, he moved to 2. Bundesliga side 1. FC Kaiserslautern on a season long loan to in August 2014. There he became a first team regular, starting in 18 matches and being put in another four times.
Fortuna Düsseldorf
Demirbay with Düsseldorf in 2015
Returning to Hamburg, he again played pre-season, before signing on a season long loan to Fortuna Düsseldorf on 25 August 2015.
1899 Hoffenheim
In June 2016, Demirbay signed for 1899 Hoffenheim and was handed the number 10 shirt. In April 2016, Demirbay scored the all important equalising goal against 1. FC Köln that earned the club from Sinsheim their first ever European qualification.
Bayer Leverkusen
On 9 May 2019, Bayer Leverkusen announced that Demirbay would end his stint at Hoffenheim, and would move to the BayArena at the start of the summer transfer window in a five-year deal until 30 June 2024. Leverkusen reportedly triggered a release clause in Demirbay's Hoffenheim contract by paying a €32 million or €28 million fee, depending on the source.