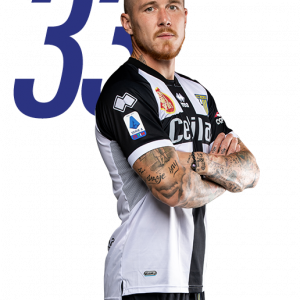 Juraj Kucka (born 26 February 1987) is a Slovak professional footballer who plays as a midfielder for Italian top division club Parma and the Slovak national team.
Parma
Kucka returned to Italy on 14 January 2019, when he joined Parma. He commented that he intended to score more goals in Parma and improve from where he left of, when he left Italy a year and a half ago.
He debuted for Parma in his first opportunity, when he came on as a substitute for Alessandro Deiola in the 73rd minute of a Serie A away fixture against Udinese. Parma won the game 2–1 by goals of Roberto Inglese and Gervinho.
In his third appearance for Parma, Kucka got his first two assists with the side. On 2 February, he assisted Barillà in the 64th minute and Ivorian international Gervinho in the 74th minute. Parma had managed to upset Juventus away, who were at the top of the league table, by coming back from a two-goal margin twice, to tie the game 3–3. Kucka played 86 minutes of the game.
He scored his first goal after the return to Italy in his fifth match, on 16 February 2019 against Cagliari after an assist from Massimo Gobbi, setting the score to 1–0 for Parma. However two second-half goals by Leonardo Pavoletti meant Parma lost the game 1–2.
Parma completed the season 14th with 41 points, three points above the relegation zone. Kucka scored a total of 4 goals, connecting one each against Genoa, Chievo Verona and Sampdoria.