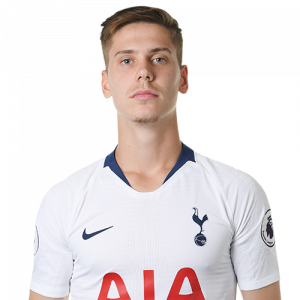 Juan Marcos Foyth (born 12 January 1998) is an Argentine professional footballer player who plays as centre-back or right-back for Spanish club Villarreal, and the Argentina national team.
Estudiantes de La Plata
Foyth started playing for a number of years in the Youth academy, initially as an attacking midfielder, then moved to centre-back before he turned 16. He signed his first professional contract in January 2017, which linked him to the club until June 2019. He made his Primera Division debut on 19 March 2017 against Patronato aged 19. He went on to play a further six times in the league, with additional two appearances in the Copa Sudamericana.
Tottenham Hotspur
Foyth joined Tottenham Hotspur for a reported £8m on 30 August 2017 on a five-year contract until 2022. He made his debut for the club on 19 September 2017 in an EFL Cup tie against Barnsley that Tottenham won 1–0. He made his league debut for the club on 3 November 2018 in a 3–2 away win against Wolverhampton Wanderers, where he conceded two penalties which were both converted. In his next Premier League appearance, an away match against Crystal Palace, he scored his first career goal, handing Tottenham a 1–0 win. In September 2020 Foyth signed a new deal with Tottenham and then was loaned out to Spanish club Villarreal.
Villarreal CF
After his success with Villarreal he signed a permanent deal with the club in the summer 2021 transfer window.