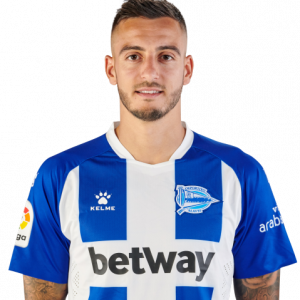 José Luis Mato Sanmartín (born 27 March 1990), known as Joselu, is a professional footballer who plays as a striker for Alavés.
Joselu began his career with Celta de Vigo before being purchased by Real Madrid in the summer of 2009. He was a prolific goalscorer for their B-team, scoring 40 goals in 72 appearances but he was unable to break into the first team and was sold to Bundesliga side 1899 Hoffenheim in August 2012, being loaned out to Eintracht Frankfurt in 2013–14. Joselu joined Hannover 96 in June 2014, then Premier League side Stoke City a year later for a fee of £5.75 million. In 2017, he moved to Newcastle for £5 million, where he spent two seasons, before moving to Alavés in 2019 for an undisclosed fee.
Joselu played his two first professional matches for local Celta de Vigo in the second division, late in the 2008–09 season. Since the age of 18, at about the same time he made his debuts with the main squad, he played with the B-team in the third level.
Joselu was Real Madrid Castilla's top scorer in the 2010–11 season, alongside Álvaro Morata, but the team failed to win promotion in the playoffs. On 21 May 2011, he made his first-team – and La Liga – debut, coming on as a substitute for Karim Benzema for the last ten minutes of a home fixture against Almería: he scored almost immediately from a Cristiano Ronaldo cross, making it 8–1 to the hosts.
On 15 July 2019, Joselu returned to La Liga to join Alavés on a three-year contract, for an undisclosed fee, reported to be around £2.5 million.