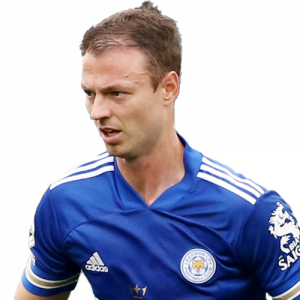 Jonathan Grant Evans (born 3 January 1988) is a Northern Irish professional footballer who plays as a defender for Premier League club Leicester City and the Northern Ireland national team.
Evans was born in Belfast and started his career at Greenisland FC, where he was spotted by Manchester United scouts. He progressed through Manchester United's academy and went on loan to Royal Antwerp and Sunderland to gain first-team experience before making his Manchester United first team debut in the 2007–08 League Cup. He became a regular first-team squad member the following season, and played almost 200 matches for Manchester United in an eight-year spell; however, he fell out of favour at the club under manager Louis van Gaal and left for West Bromwich Albion. When West Brom were relegated three years later, Evans signed for Leicester City. Evans is the second most decorated player in Northern Irish football history with 10 major trophies. He has also played 89 times for the Northern Ireland national team, and was ever present in the team's run to the round of 16 at UEFA Euro 2016.
Manchester United
Evans was scouted while playing for Greenisland FC, the same club that his brother Corry and Craig Cathcart played for before moving to Manchester United. At the age of nine, he was invited to attend the Manchester United Centre of Excellence in Belfast, before being invited for a trial in Manchester a year later. Rule changes within The Football Association at the time meant that clubs were limited to players who lived within an hour-and-a-half of the club, so Evans' opportunities were limited. However, the Evans family soon relocated to Manchester, allowing Jonny to train with Manchester United full-time. Evans progressed through Manchester United's academy, featuring in two of the club's three games during the 2006 summer tour of South Africa, as well as domestic friendlies against Celtic and Preston North End. Evans also made a surprise appearance in the Amsterdam Tournament against Ajax. Evans spent the first half of the 2006–07 season on loan at Manchester United's Belgian feeder club Royal Antwerp, alongside fellow youngsters Darron Gibson, Danny Simpson and Fraizer Campbell.
Sunderland loans
In December 2006, Evans agreed to join Sunderland on loan until the end of the 2006–07 season, with Manchester United and Antwerp team-mate Danny Simpson joining on a similar deal in the January transfer window. The pair helped Sunderland clinch the Football League Championship title, with Evans winning the club's "Youth Player of the Year" award at the end of the season. Although manager Roy Keane was hopeful of re-signing Evans on loan following promotion to the Premier League, it was confirmed in June 2007 that Evans would be staying at Manchester United to push for a place in the first team.
On 4 January 2008, Evans rejoined Sunderland on loan for the second time, and was immediately drafted into the first team squad. Evans played the full 90 minutes in his first game, losing 3–0 to Wigan Athletic in the FA Cup. Evans was criticised for granting Wigan the second goal of the game, for which he lost the ball on the edge of his own box, resulting in a deflected own goal by Paul McShane. It is half-season with Sunderland was generally successful, however, and the team avoided relegation.
Return to Manchester United
2007–2011
Evans in 2009
Evans made his Manchester United debut on 26 September 2007 against Coventry City in the Football League Cup which ended in a 2–0 defeat. He then appeared as a late substitute for Gerard Piqué in a UEFA Champions League match at home to Dynamo Kyiv on 7 November 2007 to secure Manchester United's qualification to the knockout stage of the competition. He subsequently made his first Champions League start on 12 December 2007 against Roma.
Evans made his league debut for United against Chelsea on 21 September 2008, filling in for Nemanja Vidić who was unavailable due to suspension. The game ended 1–1. In December 2008, Evans made two substitute appearances for Manchester United at the FIFA Club World Cup, including one in the final after Nemanja Vidić was sent off shortly after half time. Evans continued to deputise throughout the rest of the season, appearing in a number of league games and in the League Cup final.
At the beginning of the 2010–11 football season, Evans became a regular fixture in the United team, partnering Nemanja Vidić in the centre of defence in the absence of the injured Rio Ferdinand. On 19 March 2011, Evans injured Bolton Wanderers and United States international Stuart Holden with a tackle which left Holden out for six months which eventually got worse and caused him to be slidelined for 22 months. Despite Evans being given a straight red card for the tackle, Manchester United went on to win the game 1–0 with a Dimitar Berbatov goal.
2011–2015
Before the start of the 2011–12 season, Evans was handed the number 6 shirt after Wes Brown was transferred to Sunderland. On 14 August, he wore his new shirt number for the first time in United's opening day 2–1 win at West Bromwich Albion, he came on for the injured Nemanja Vidić in the 52nd minute at The Hawthorns. On 23 October, he was sent off in United's 6–1 defeat against Manchester City after bringing down Mario Balotelli in a last-man challenge. Evans made his 100th appearance for the Red Devils on 30 November, playing the full 120 minutes as United lost 2–1 to Championship side Crystal Palace in the League Cup quarter-final. On 18 March 2012, he scored his first goal for United after opening the scoring in the 5–0 league win at Wolverhampton Wanderers. Evans missed the final three games of the season with a foot injury.
Having undergone surgery to repair an ankle injury at the end of last season, Evans was unable to start pre-season training until early August, but there was speculation that he might be playing Manchester United's second game against Fulham. Evans scored his second goal for the club in a 3–0 away win at Newcastle United on 7 October 2012, thumping home a header from a Robin van Persie corner kick. On 23 October, Evans scored his first goal in the UEFA Champions League and first at Old Trafford in a 3–2 victory over Braga. He scored the equalising goal at 2–2, scrambling home from a corner kick. Evans netted his third goal of the season on 24 November 2012 in a 3–1 win, heading in the equaliser against Queens Park Rangers at Old Trafford from a corner. On 21 December 2012, Evans signed a new contract with United which will keep him at the club until June 2016. Evans scored his third league goal of the season and fourth overall on Boxing Day in a 4–3 win against Newcastle United, tapping home after Javier Hernández's shot had been saved by Tim Krul.
In a match against Newcastle in March 2015, Evans was charged by the FA with having spat at opposing striker Papiss Cissé. He denied the charge and said: "I would like to make it clear that I did not spit at Papiss Cisse. Having woken up this morning, I am shocked to have seen the media coverage from last night's match." However he was still banned for six games on 7 March, Papiss Cissé for seven.
West Bromwich Albion
Evans in 2017
Evans signed for Premier League club West Bromwich Albion for an undisclosed fee on 29 August 2015. He made his debut for the club on 12 September 2015 in a 0–0 draw against Southampton. On 2 January 2016, Evans scored his first West Brom goal in a 2–1 victory over Stoke City. On 15 May 2016, before the final game of the season, Evans received Players'Player of the Season award of West Bromwich Albion on his primary campaign for the club.
He had to wait a long time for his next goal, which came in a 3–1 win over Watford on 3 December 2016. His next goal came in a 2–1 loss against Swansea on the final game of the season.
In July 2017, following the departure of club skipper Darren Fletcher to Stoke City, Evans was confirmed permanent captain by head coach Tony Pulis. He scored his first goal of the season on 30 September 2017 in a 2–2 draw against Watford, an alike header of the one he scored ten months earlier against the same opponent. His second goal of the season was against Brighton at home on 13 January 2018, which brought his side's first league win across 5 months and 20 games.
Leicester City
In June 2018, Leicester City activated Evans' relegation release clause in his contract with West Bromwich Albion for £3.5 million. He signed a three-year contract. He made his Leicester debut in a 2–0 victory over Wolverhampton Wanderers on 18 August 2018. He scored his first goal for the club in a 4-1 defeat to Crystal Palace on 23 February 2019.
Evans made his 400th appearance in English football on 12 July 2020 and scored an own goal in a 1–4 defeat away to AFC Bournemouth in the Premier League.