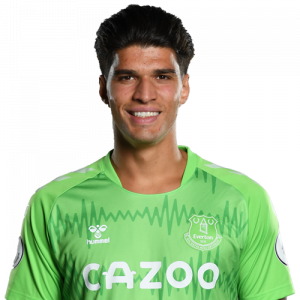 João Manuel Neves Virgínia (born 10 October 1999) is a Portuguese professional footballer who plays as a goalkeeper for Premier League club Everton.
On 11 July 2019, Virgínia joined Reading on a season-long loan deal from Everton. Everton recalled Virgínia early due to a lack of playing time on 5 January 2020.
Virgínia played his first professional game for Everton on 16 September 2020, in a 3–0 home win in the EFL Cup match against League Two side Salford City. On 13 March 2021, Virgínia made his Premier League debut as a substitute for the injured Jordan Pickford in a 1–2 home defeat to Burnley.