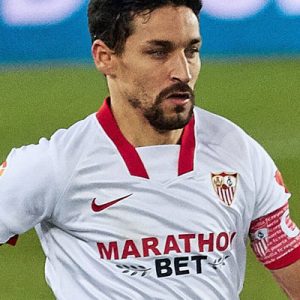 Jesús Navas González (born 21 November 1985) is a Spanish professional footballer who plays as a right winger or a right back for Sevilla and the Spain national team.
He has spent the vast majority of his career with Sevilla, playing 572 official matches and winning seven major titles, including three Europa League titles and two Copas del Rey. In 2013 he signed for Manchester City, where he won the 2013–14 Premier League. He re-joined Sevilla in 2017, going on to hold the club's record for most competitive appearances.
A Spanish international since 2009, Navas helped his country win the 2010 World Cup and Euro 2012, earning over 40 caps and scoring five goals.
On 1 August 2017, Sevilla announced the return of Navas through a video. He signed a four-year contract and was given the number 16 shirt previously worn by the late Antonio Puerta, who was a close friend.
During his second spell, Navas continued to occasionally appear at right back. On 20 September 2017, he celebrated his 400th competitive appearance for the club by scoring the only goal of the 1–0 home win over Las Palmas, and he surpassed Pablo Blanco's record of 416 matches when he came off the bench against Levante on 16 December.
Navas was made captain ahead of the 2018–19 season. On 18 October 2018, the board of directors decided to rename the main stadium of the club's training ground, the Ciudad Deportiva José Ramón Cisneros Palacios as Estadio Jesús Navas in recognition of his professional career.
On 3 January 2020, Navas became the first player to reach 500 appearances for Sevilla, when he started in a 1–1 draw against Athletic Bilbao.
On 23 June 2021, the president of Sevilla confirmed in an interview that Navas had signed a three-year contract extension.