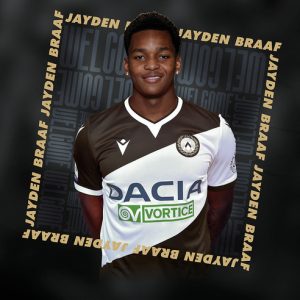 Jayden Jezairo Braaf (born 31 August 2002) is a Dutch professional footballer who plays as a forward for Udinese, on loan from Manchester City.
Besides the Netherlands, he has played in England and Italy.
Club career
On 1 February 2021, Braaf joined Udinese on loan. He made his debut with Udinese in a 1-0 Serie A win over Fiorentina on 28 February 2021 and scored his first goal in Serie A in a 4-2 win over Benevento on 25 April 2021. It has been mentioned that Braaf will be joining newly promoted Watford FC for the 2021/22 season. To date a loan or permanent move hasn't been disclosed.
International career
Braaf has played internationally for Netherlands at under-15, under-17 and under-18 levels.