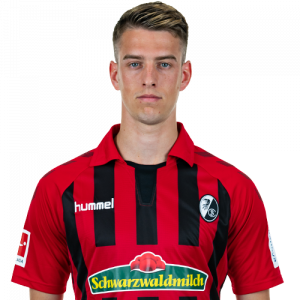 Janik Haberer (born 2 April 1994) is a German professional footballer who plays as a midfielder for Freiburg.
In 2011 he moved to Unterhaching, where he first played in the youth groups of this club. First appeared in the main team on February 4, 2012 for the match against Chemnitz in the 2011/2012 season of the Third Bundesliga; scored his first goal for Unterhaching in the last match of the same season.
During the winter break in the 2014/2015 season, he moved to the Bundesliga club Hoffenheim, signing a contract until 2018. But Haberer spent his first season only in the second team of the club, playing in the fourth division "South-West". In order to have practice at a higher level, he was loaned to the second Bundesliga club Bochum.
In the 2016/2017 season, he moved to Freiburg, which had just returned to the Bundesliga. He made his debut for the new club in the 13th round against Bayer Leverkusen.