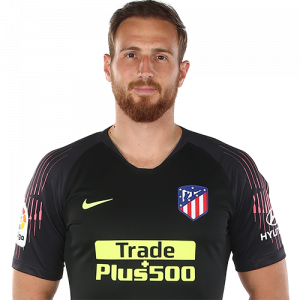 Jan Oblak (born 7 January 1993) is a Slovenian professional footballer who plays as a goalkeeper for Spanish club Atlético Madrid and captains the Slovenia national team.  He is frequently ranked as one of the best goalkeepers in football.
Oblak signed for Portuguese club Benfica at the age of 17, and was part of the team that won the domestic treble in the 2013–14 season. In 2014 he moved to Atlético Madrid for a fee of €16 million, becoming La Liga's most expensive goalkeeper at the time. In 2015–16 he won the Ricardo Zamora Trophy for best goalkeeper, conceding an all-time record low of 18 goals. He won the award again in the following three seasons, and for a fifth time in 2021. Oblak was also nominated for the 2017 and 2018 Ballon d'Or awards, following his consistent performances with his club.
With over 300 appearances for Atlético Madrid, Oblak has won four trophies with the club, including the 2020–21 edition of La Liga.
Oblak made his senior international debut for Slovenia in 2012, and has been named Slovenian Footballer of the Year on five occasions.
On 16 July 2014, Atlético Madrid announced they had reached an agreement with Benfica for the transfer of Oblak, pending a medical examination. Atlético paid €16 million for the Slovenian player, making him the most expensive goalkeeper in La Liga history. Oblak moved to Madrid on a six-year deal as a replacement for Thibaut Courtois, who had returned to play for his parent club Chelsea following his loan expiration. During his presentation, on 22 July 2014, Oblak said, "I don't come to replace anyone. I come as another player. I'm here along with the rest of the players and goalkeepers. I'll do everything in my power to defend this shirt and achieve great results this season. I will do everything in my hand to help the team."