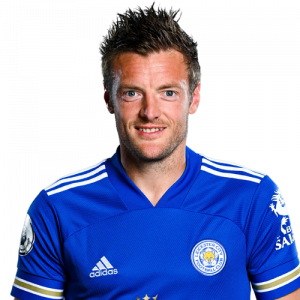 Jamie Richard Vardy (born 11 January 1987) is an English professional footballer who plays as a striker for Premier League club Leicester City. Vardy has also played for the England national team.
After being released by Sheffield Wednesday at the age of 16, Vardy began his senior career with Stocksbridge Park Steels, breaking into the first team in 2007 and spending three seasons there before joining Northern Premier League club FC Halifax Town in 2010. Scoring 25 goals in his debut season, he won the club's "Player's Player of the Year" award and then moved to Conference Premier club Fleetwood Town in August 2011 for an undisclosed fee. He scored 31 league goals in his first season at his new team, winning the team's "Player of the Year" award as they won the division.
In May 2012, Vardy signed for Leicester City in the Championship for a non-League record transfer fee of £1 million and helped the team win the Championship in 2014. In the 2015–16 Premier League season, he scored in eleven consecutive Premier League matches, breaking Ruud van Nistelrooy's record, and was voted the Premier League Player of the Season and FWA Footballer of the Year as outsiders Leicester won the title. He won the Premier League Golden Boot for the 2019–20 season, becoming the oldest player to win the award. He also sits in 2nd place for most goals scored against top 6 clubs, with 38. Vardy made his international debut in June 2015 and was selected for UEFA Euro 2016 and the 2018 FIFA World Cup.
After just over a year with Halifax, Vardy signed for Conference Premier club Fleetwood Town for an undisclosed fee.He made his debut the same day in a 0–0 home draw with York City. He scored his first goals for the club in his third appearance, scoring twice in a 3–2 win away to Kettering Town on 3 September. The following week he scored another two goals against Gateshead at Highbury Stadium, including one in added time. He scored twice for a third consecutive match when on in the 3–1 away win against Ebbsfleet United, but did not score again for just over a month until he scored a hat-trick in the away match against Alfreton Town on 18 October. On 20 September, he was given a straight red card in a 5–2 home win over Kidderminster Harriers, a match in which both teams played over an hour with ten men each. Four days after his hat-trick, Vardy scored two more goals in a 4–1 win over Bath City, a result which left Fleetwood two points behind leaders Wrexham.
In the first round of the FA Cup on 12 November, Vardy scored the second goal in a 2–0 win over League One club Wycombe Wanderers. Fifteen days later, his goal in a 1–1 draw at Gateshead meant that he had recorded a goal in each of his last six appearances, totalling ten goals in that period; he won the Conference Premier Player of the Month award for November. On 13 December, Vardy confirmed a 2–0 win in added time as Fleetwood triumphed 2–0 away to Yeovil Town in the Cup second round replay.
On 1 January 2012, Vardy scored twice in a 6–0 win over Southport, and six days later the team lost 5–1 at home to local rivals Blackpool in the third round of the Cup. After the match, Blackpool manager Ian Holloway made a £750,000 offer for him, which Fleetwood rejected, holding on for £1 million and a loan back to the club. He totalled six goals in his first four matches of the calendar year. On 21 February, he recorded a second hat-trick of the campaign, in a 6–2 win over Ebbsfleet United which left Fleetwood two points ahead of Wrexham at the top of the table. Vardy scored both Fleetwood goals in a 2–2 draw against Lincoln City on 13 April; Wrexham's draw against Grimsby Town the next day gave Fleetwood the Conference title and a first-ever promotion to the Football League. Vardy's 31 league goals saw him finish the season as the top scorer in the Conference Premier.
Leicester City
2012–13 season
Vardy (left) warming up for Leicester City in 2013
On 17 May 2012, it was announced that Vardy would be signing for Championship club Leicester City ahead of the 2012–13 season, for a reported fee of £1 million, a non-League record, which could potentially be worth up to £1.7 million with add-ons. The next day, he signed on a three-year contract until June 2015. On 14 August, Vardy made his debut for Leicester against Torquay United in the first round of the League Cup, playing the entirety of the match at Plainmoor and heading the final goal in a 4–0 win. Four days later he made his Football League debut at the King Power Stadium, a 2–0 win over Peterborough United in which he set up a goal for Andy King. He scored his first league goal in a 2–1 away defeat to Blackburn Rovers on 25 August. In September, he scored the winner in two 2–1 comeback victories, against Burnley and Middlesbrough. Vardy's first season at the club was marred by his own loss of form, prompting criticism from some City supporters on social media, and he even considered leaving football until manager Nigel Pearson and assistant manager Craig Shakespeare convinced him to continue with the club.
2013–14 season
The following season brought a turn around in Vardy's fortunes as he established himself as a prolific scorer in the Leicester attack as the club took a commanding lead at the top of the table. Vardy scored and won a penalty kick in the local derby as Leicester beat high flying Derby County 4–1 on 10 January 2014 and reaffirmed their position at the top of the Championship. Vardy finished the season with 16 league goals as Leicester were promoted to the Premier League at the end of the season as champions, and was named Leicester's Players' Player of the season at the club's awards.
2014–15 season
On 19 August 2014, Vardy extended his contract until the summer of 2018. After missing the first two matches of the season through injury, he made his Premier League debut on 31 August 2014, as a second-half substitute in a 1–1 draw at home to Arsenal. On 21 September, Vardy delivered a man of the match performance by scoring his first Premier League goal and setting up the other four as Leicester made a surprise comeback from 3–1 down to a 5–3 victory against Manchester United.
On 11 April 2015, Vardy scored a 90th-minute winning goal in the Foxes' 3–2 victory at West Bromwich Albion. Impressive form throughout the rest of April, including another winning goal, against Burnley on 25 April, saw Vardy nominated for the Premier League Player of the Month award. Vardy and Leicester ended the 2014–15 season in a safe 14th position having picked up 22 points since 4 April, capping things off by opening the scoring in a 5–1 victory against Queens Park Rangers on the final day of the Premier League season on 24 May.
2015–16 season
Vardy playing for Leicester City in 2015
Vardy started the 2015–16 season by scoring the opening goal as Leicester picked up a 4–2 victory at home against Sunderland on 8 August 2015. He scored the equaliser in Leicester's 3–2 comeback victory against Aston Villa on 13 September. With two goals in Leicester's 5–2 defeat to Arsenal on 26 September, Vardy reached seven league goals for the season, eclipsing his goal tally of the previous year.
On 24 October, he scored the only goal of a home win over Crystal Palace, the seventh consecutive Premier League match in which he scored, and his tenth goal of the league season. Vardy scored in his eighth league match in a row on 31 October, and became only the third player ever to do so in the Premier League after Ruud van Nistelrooy (twice) and Daniel Sturridge, in a 3–2 win over West Bromwich Albion. A week later, he won and scored a penalty to secure a 2–1 win over Watford, putting him on nine consecutive matches with a goal, behind Van Nistelrooy's Premier League record of ten. Vardy also became the first player in the Premier League to score in nine consecutive matches in a single season, as Van Nistelrooy's 10 matches were at the end of the 2002–03 season and the beginning of the 2003–04 season. For his run of good form, Vardy was the Premier League Player of the Month for October 2015, the first Leicester player to be given the accolade since goalkeeper Tim Flowers in 2000.
On 21 November, Vardy matched Van Nistelrooy's record of consecutive Premier League matches with a goal, opening a 3–0 win over Newcastle United. A week later, against Manchester United, he scored again to claim the record for himself. His run ended on 5 December when he did not score in a 3–0 win at Swansea City. Had he done so, he would have equalled the English top-flight record of 12 consecutive scoring matches set by Jimmy Dunne for Sheffield United in 1931–32; the result nonetheless put Leicester on top of the table. Following his goalscoring exploits, Vardy was again named as the Premier League Player of the Month for November, becoming only the fifth ever player to win the award in consecutive months. He was presented with a certificate from Guinness World Records for his achievement.
Vardy celebrating Leicester's Premier League title victory with his family in 2016
By January 2016, Vardy's transfer value had risen from £2.1 million to £18.8 million, with manager Claudio Ranieri describing him as "priceless". On 2 February, he scored both goals in a 2–0 win against Liverpool, the first being a long-distance volley described as "world class" by opposing manager Jürgen Klopp. Four days later, he signed a new contract to keep himself at Leicester until 2019, increasing his weekly salary to £80,000. On 10 April 2016, Vardy scored both goals (his 20th and 21st of the season) in Leicester's 2–0 win at Sunderland, becoming the first Leicester player since Gary Lineker in the 1984–85 season to score 20 goals in the top division of English football. The result also secured qualification to the UEFA Champions League for the first time in Leicester's history. A week later, Vardy scored the first goal of a 2–2 home draw against West Ham United, but was later sent off for diving in the penalty area under pressure from Angelo Ogbonna. He was charged with improper conduct for his reaction to the dismissal and was fined £10,000, as well as being suspended for two matches during a vital point of Leicester's eventually successful title campaign.
With 24 league goals, Vardy was the second highest scorer in the Premier League for the 2015–16 season, alongside Sergio Agüero, only one goal behind Golden Boot winner Harry Kane. Vardy was one of four Leicester players in the PFA Team of the Year; he was later also named the FWA Footballer of the Year,[72] and the 2016 Barclays Premier League Player of the Season.
2016–17 season
Vardy and Wilfred Ndidi sandwich Chelsea's Victor Moses during Leicester's title defence.
On 3 June 2016, Arsenal made a bid of £22 million for Vardy, triggering a release clause in his contract. Leicester offered him improved terms, and 20 days later he agreed to a new four-year deal, to be signed on his return from UEFA Euro 2016. Vardy rejected Arsenal's offer because Arsenal had not promised that he would be played in his normal position and because of the differences between the two club's tactics, with Arsène Wenger favouring possession and Leicester playing on the counter-attack.
On 7 August 2016, he scored in a 2–1 defeat to Manchester United in the 2016 FA Community Shield. Twenty days later, Vardy scored his first league goal of the season in Leicester's first win of the campaign, beating Swansea City 2–1.
On 10 December 2016, Vardy ended his ten-match drought within the opening five minutes against Manchester City. He ended up scoring another two for his first professional hat-trick to help Leicester to a 4–2 victory, their first win in five league matches. A week later, he was sent off in the first half of a 2–2 draw at Stoke City for a challenge on Mame Biram Diouf; Leicester appealed unsuccessfully against his three-match suspension.
On 22 February 2017, Vardy scored his first UEFA Champions League goal in a 2–1 away defeat to Sevilla in the first leg of the round of 16. On 18 April, he scored Leicester's equalizer in their second leg quarter-final match against Atlético Madrid, but nonetheless Leicester were eliminated 2–1 on aggregate.
2017–18 season
Vardy playing for Leicester City in 2017
Vardy began his sixth season at the club by netting two goals in the 4–3 away loss to Arsenal in the opening day of the 2017–18 season. On 16 October, Vardy made his 200th appearance for the club in the 1–1 draw against West Bromwich Albion. Two weeks later, he scored the opener of a 2–0 home win against Everton in Claude Puel's debut match as Leicester manager.
On 23 December 2017, Vardy netted his 50th Premier League goal in the 2–2 draw against Manchester United and scored his 10th Premier League goal of the season on 20 January with a penalty kick in the 2–0 home win versus Watford.
By netting a brace in the final day of the season, a 5–4 away defeat by Tottenham Hotspur, Vardy reached 20-goal landmark in the Premier League for the second time in his career. Overall, he made 42 appearances in all competitions, scoring 23 times as Leicester finished the Premier League in 9th place. Vardy was the recipient of the BBC Goal of the Season award for a goal against West Bromwich Albion where he struck a first-time ball with his weaker foot that was looped over his shoulder at range by his strike partner Riyad Mahrez.
2018–19 season
Vardy (left) playing for Leicester City in 2019
On 9 August 2018, just before the start of the 2018–19 season, Vardy signed a new four-year deal at Leicester, keeping him at the club until 2022, when he will be 35. Vardy started the season as a substitute, scoring a 92nd minute consolation goal in the 2–1 away defeat to Manchester United on the opening match of the season. He was sent off the following match after a harsh tackle on Wolves defender Matt Doherty. On 9 March 2019, Vardy scored his 100th goal for Leicester, scoring two goals in a 3–1 home win over Fulham. On 28 April 2019, Vardy scored another two goals, this time in a 3–0 home victory against Arsenal, bringing his goal tally in league football for Leicester to 100.
2019–20 season
On 25 October 2019, Vardy scored a hat-trick in a 9–0 away win against Southampton.
On 4 July 2020, Vardy scored his 100th and 101st goal in the Premier League in a 3–0 victory over Crystal Palace. He became the first Leicester player to reach the 100 goal milestone and 29th overall in league history. Of the 29 players to have scored 100 Premier League goals, only Ian Wright (28 years 286 days) made his debut in the competition at an older age than Vardy (27 years 232 days).
With 23 goals, he won the Premier League Golden Boot for the first time in his career, followed by Southampton forward Danny Ings and Arsenal forward Pierre-Emerick Aubameyang both on 22 goals. The 33-year-old Vardy became the oldest player to win the award, while Didier Drogba was the previous oldest player to win the award at 32 when he led Chelsea to the Premier League title in 2009–10 with 29 goals.
2020–21 season
On 26 August 2020, Vardy signed a new contract with Leicester City until 2023. On 27 September 2020, he scored his second hat-trick against Manchester City in a 5–2 away win at Etihad Stadium. On 25 October, he scored the only goal in a 1–0 win against Arsenal, to grant Leicester City their first away win at Arsenal since September 1973. On 6 December 2020, while celebrating his last-minute goal in Leicester's 2–1 win against Sheffield United, Vardy slid into and destroyed a corner flag which was carrying the pride flag colours as part of Stonewall's Rainbow Laces campaign. Vardy later signed the flag and gifted it to Foxes Pride, Leicester's LGBT+ supporters group.