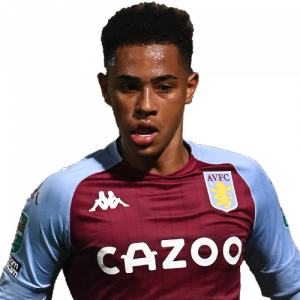 Jacob Ramsey (born 28 May 2001) is an English professional footballer who plays as a midfielder for Premier League club Aston Villa.
Ramsey joined the youth academy of Aston Villa at the age of 6. On 15 January 2019, Ramsey signed a professional contract with Aston Villa. He made his professional debut with Aston Villa in a 2–0 Championship loss to West Bromwich Albion on 19 February 2019.
On 1 May 2019, at the Aston Villa End-of-Season awards, Ramsey was named "2018–19 Academy Player of the Season".
On 31 January 2020, Ramsey signed for Doncaster Rovers on loan for the remainder of the 2019–20 season. On the same day, he signed a new three-and-a-half year contract with Aston Villa. On 4 February 2020, Ramsey made his Doncaster debut, in a 3–0 away victory over Tranmere Rovers, in which he scored his first two goals in senior football. However, the EFL League One season was initially postponed and, on 9 June 2020, ended due to the COVID-19 pandemic in the United Kingdom and Ramsey rejoined the Aston Villa squad ahead of the resumption of the Premier League.
On 15 September 2020, Ramsey was given his first ever start for Aston Villa, in a 3–1 victory over Burton Albion in the EFL Cup.
On 12 December 2020, Ramsey made his first league start for Villa in a 1-0 away win over West Midlands rivals Wolverhampton Wanderers.
On 9 February 2021, Ramsey signed a new four-and-a-half-year contract with Aston Villa.