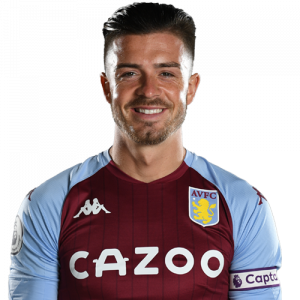 Jack Peter Grealish (born 10 September 1995) is an English professional footballer who plays as a winger or attacking midfielder for Premier League club Aston Villa and the England national team.
Grealish joined Aston Villa at the age of six, and made his debut for the club in May 2014, following a loan at Notts County. Eligible to represent either England or the Republic of Ireland internationally, Grealish was capped by the Republic of Ireland up to under-21 level before confirming his decision to play for England in April 2016. He played for the England under-21s for the first time in May 2016, winning the 2016 Toulon Tournament.
Having started at Highgate United Youth, Grealish, a lifelong Aston Villa fan, joined the club as a six-year-old. At the age of 16, he was named as an unused substitute in a 4–2 home Premier League defeat against Chelsea on 31 March 2012. Grealish was part of the club's under-19 team that won the 2012–13 NextGen Series, scoring in a 3–1 extra-time win over Sporting CP in the semi-final.
In March 2020, the Premier League was suspended midway through Aston Villa's return season, due to the COVID-19 pandemic in the United Kingdom. During that enforced break, it was revealed that Grealish had violated government guidance to stay home. He accepted that his actions were "wrong and entirely unnecessary" and was fined by the club.
Grealish was fouled 167 times across the 2019–20 Premier League season; this was the most fouls won by a player in a single Premier League campaign, with Grealish passing the record with over eight matches remaining in the season. He scored on the final day, as Aston Villa clinched survival in the Premier League thanks to a 1–1 draw against West Ham United, as their relegation rivals Watford lost 3–2 to Arsenal. At the club's End of Season Awards, Grealish was voted the Aston Villa Player of the Season by both the supporters and his fellow players. He also finished the season as the club's leading goalscorer with eight goals in the Premier League and 10 in all competitions.
On 15 September 2020, Grealish signed a new five-year contract with Aston Villa until 2025.
Grealish scored his first league goal of the campaign in Villa's second match on 28 September; the first goal in a 3–0 win at newly-promoted Fulham. On 4 October, he scored a brace and provided three assists in a 7–2 home victory over Liverpool. It was Liverpool's heaviest defeat in 57 years and was the first time in Premier League history that a reigning champion had conceded 7 goals in a single match. It took almost a month for Grealish to score again, when he netted a 97th minute goal against Southampton, although it was not enough as Villa lost the game 4–3. He then assisted Ollie Watkins for the third goal of the game in Villa's 3–0 away win over Arsenal, before they lost 2–1 to Brighton & Hove Albion. It was Brighton's first ever win at Villa Park and meant Villa had lost three home games in a row.