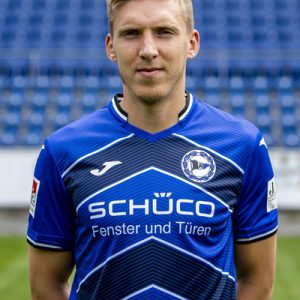 Jóan Símun Edmundsson (born 26 July 1991) is a Faroese professional footballer who plays for German Bundesliga club Arminia Bielefeld and the Faroe Islands national team.
Arminia Bielefeld
In May 2018, it was announced Edmundsson would join 2. Bundesliga side Arminia Bielefeld from Odense BK for the 2018–19 season having agreed a contract until summer 2020. On 6 August 2018, Edmundsson became the first Faroese goalscorer in German professional football when he scored in his debut against FC Heidenheim.
On 26 September 2020, Edmundsson made his debut in the Bundesliga against 1. FC Köln. Having come from the bench for Sergio Córdova in the second half, he scored the winning goal, becoming the first Faroese to ever play and score in the Bundesliga.