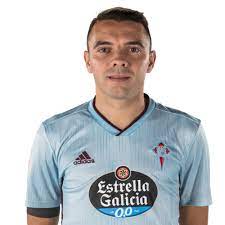 Iago Aspas Juncal (born 1 August 1987) is a Spanish professional footballer who plays as a striker for RC Celta de Vigo and the Spain national team.
He has spent most of his career with Celta, appearing in 380 official games across 12 seasons and scoring 166 goals. He made his La Liga debut with the club in 2012 and moved to Liverpool the following year, returning to Celta in 2015 after a loan at Sevilla.
Aspas first appeared with the Spain senior team in 2016. He represented the country at the 2018 World Cup.
On 12 June 2015, Sevilla signed Aspas from Liverpool as part of the agreement between the two clubs, then sold him straight back to Celta on the same day, with the player agreeing to a five-year contract six days later for a €5 million fee. On 23 September, he scored twice in a 4–1 home win over Barcelona.Aspas in action for Celta in 2017
Aspas was the La Liga Player of the Month for October 2016 after scoring five goals, including braces in a 4–1 win against Deportivo and a 3–3 draw with UD Las Palmas, in addition to a goal and assist in a 4–3 victory over reigning champions Barcelona. The following 23 February he scored a last-minute penalty in the Europa League last-32 second leg to force extra time at FC Shakhtar Donetsk, with the Spaniards emerging victorious.
On 21 May 2017, in the last matchday of the campaign, Aspas scored through a penalty in a 2–2 home draw against Real Sociedad, reaching a personal-best 19 goals and winning the Zarra Trophy in the process. The following season he was again the league's top-scoring Spaniard at 22, behind only Lionel Messi, Cristiano Ronaldo and Luis Suárez overall. He netted hat-tricks in a 5–2 win at UD Las Palmas on 16 October 2017 and a 4–0 defeat of former side Sevilla the following 7 April, in addition to a brace in a 3–1 derby win at eventually relegated Deportivo; on 5 November 2017, with another couple in a 3–1 home win over Athletic Bilbao, he reached 100 goals for his main employer, putting himself sixth in their all-time scorers.
In 2018–19, Aspas was absent with a calf injury for three months from the end of December, during which Celta slipped from ninth place to 18th in the table. He netted twice in a 3–2 win over Villarreal on his return on 30 March 2019 in what was also his 300th game for the team, and on 17 April he signed a new contract to last until 2023, the club's centenary year.
On 24 June 2020, Aspas scored the only goal at Real Sociedad to reach 100 La Liga goals from 209 games; only four players since the Spanish Civil War had done so quicker. Three days later he reached 150 for Celta in his 339th overall match, a 2–2 home draw with Barcelona. On 30 June, he achieved a century of top-flight goals for the club in a 5–1 away loss against RCD Mallorca.
Aspas netted in a 3–1 home defeat to Real Sociedad on 1 November 2020 with his 105th goal for the team in the top division, taking a 69-year record from Hermidita. He was again voted the best in the league for December, contributing to eight of Celta's 11 goals as they went unbeaten in five games. At the end of the season, he had managed to score at least 14 times for the sixth consecutive year.