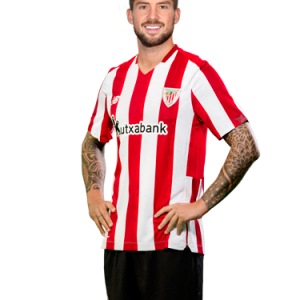 Iñigo Martínez Berridi (born 17 May 1991) is a Spanish professional footballer who plays for Athletic Bilbao and the Spain national team mainly as a centre-back.
He spent most of his professional career with Real Sociedad, playing 238 matches (17 goals scored) across all competitions after making his debut at the age of 20. In 2018, he signed with Athletic Bilbao.
Martínez won his first cap for Spain in 2013.
On 30 January 2018, Martínez signed with Athletic Bilbao for €32 million (his contractual buyout clause amount and a record outlay for the buying club) on a deal until 2023; the fee was around half of the figure received the same day for the player he replaced in the Athletic squad, Aymeric Laporte, who had moved to Manchester City. He made his debut on 4 February, playing the entirety of a 2–0 domestic league defeat away to Girona FC.
During October 2018, Martínez conceded two penalties for foul challenges in two local derby matches in the domestic league, both of which led to the opening goal and were awarded after Video Assistant Referee reviews – the first in a 3–1 home defeat to his old club Real Sociedad and the second in a 1–1 away draw against SD Eibar.
Martínez scored his first goal for Athletic (in his 85th competitive appearance) with a backheel flick in a home league fixture against Betis on 20 June 2020. He later also gave away a penalty, but the kick was missed and his proved to be the only goal of the match.
Under the spotlight playing against his former club Real Sociedad in the delayed 2020 Copa del Rey Final, Martínez had a major role in proceedings: he came close to scoring with a long-range shot in the first half, appeared to have conceded a penalty for handball on the edge of the penalty area at the start of the second half – a VAR review ruled this to have been outside the box – then did concede a penalty for a foul on Portu ten minutes later. He was sent off by the referee, but another VAR check decided that he had not denied a goalscoring opportunity deliberately and the red card was downgraded to yellow. The penalty was scored, and Real took the trophy with a 1–0 scoreline. In the aftermath, he was seen taking time to offer congratulations to his many old teammates and was praised in the media for his sportsmanship.