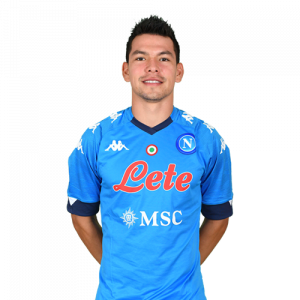 Hirving Rodrigo Lozano Bahena (born 30 July 1995) is a Mexican professional footballer who plays as a winger for Serie A club Napoli and the Mexico national team.
Popularly known by his nickname "Chucky", Lozano began his career with Pachuca, winning the 2016 Clausura and the 2016–17 CONCACAF Champions League, playing in 152 games and scoring 44 goals for the team. In June 2017, he signed for Dutch side PSV Eindhoven and won the Eredivisie in his first season in the Netherlands, and also finished as the team's top scorer. In 2019, Lozano signed for Napoli for a reported €42 million, making him the most expensive Mexican player of all time.
Participating with various youth teams, Lozano won the 2015 CONCACAF U-20 Championship and played at the 2016 Summer Olympics. He made his senior international debut in February 2016 and represented the nation at the Copa America Centenario, 2017 FIFA Confederations Cup, and 2018 FIFA World Cup.
Napoli faced Parma in their opening league match of the 2020–21 season, where Lozano was in the starting line-up in the 2–0 win. The following week against Genoa saw Lozano score his first brace with the club in a 6–0 victory. The following month, he scored his second brace against Atalanta in a 4–1 victory. On 26 November, he scored his first Europa League goal in a group stage match against Croatian side Rijeka, sealing a 2–0 home victory. Following a 2–1 win over Sampdoria, in which he scored and contributed an assist, sports newspaper La Gazzetta dello Sport praised Lozano's performance, highlighting his improved form compared to that of his first season with Napoli.
On 24 January 2021, he scored his team's only goal in a 3–1 away defeat to Hellas Verona, which was clocked at 8.95 seconds from the start of the match, making it the third-fastest goal in the Serie A, the club's fastest goal, and Lozano's personal fastest. Four days later, in the Coppa Italia quarter-final match against Spezia, he scored his 100th goal across all competitions.