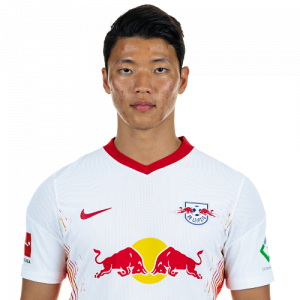 Hwang Hee-chan (born 26 January 1996) is a South Korean professional footballer who plays as a forward for Bundesliga club RB Leipzig and the South Korea national team. He is nicknamed the "Bull" (Korean: Hwangso) in South Korea due to his aggressive playing style and surname.
In December 2014, Pohang Steelers intended to sign forward Hwang Hee-chan as a homegrown player, however he signed with an Austrian club Red Bull Salzburg eventually. On 3 November 2016, Hwang came off the bench and scored a brace in a Europa League match for Salzburg against Ligue 1 side Nice, contributing to his team's first Europa win of the campaign.
During the 2017–18 season Salzburg had their best ever European campaign. They finished top of their Europa League group, for a record fourth time, before beating Real Sociedad and Borussia Dortmund thus making their first-ever appearance in the quarter-finals of UEFA Europa League. On 12 April, Hwang scored a goal against Lazio, leading a 4–1 victory to proceed to the semi-finals. On 3 May 2018, Hwang played in the second away match of the semi-final, when Salzburg defeated Marseille by 1–2 but lost on aggregate 3–2. On 31 August 2018, Hwang joined Hamburger SV on a loan deal until the end of 2018–19 season.
During the 2019–20 season, Hwang drew plaudits alongside Salzburg's attacking players Erling Haaland and Takumi Minamino. The trio were particularly praised for their exploits in the Champions League, where Hwang was involved in eight goals by recording three goals and three assists, and winning two penalty kicks. Hwang's playing style has been described as energetic with accurate passing and an eye for dribbling. In all competitions, Hwang had a remarkable season scoring 16 goals and providing 22 assists in 40 appearances.
On 8 July 2020, Hwang signed for RB Leipzig on a five-year contract. On 12 September 2020, he scored a goal and created an assist against Nürnberg in the first round of 2020–21 DFB-Pokal, where he made his debut.