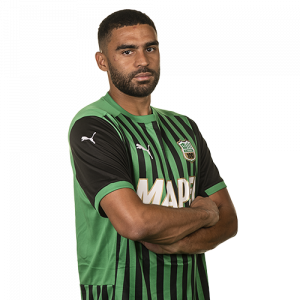 Grégoire André Defrel (born 17 June 1991) is a French professional footballer who plays as a forward for Serie A club Sassuolo.
Parma
Defrel joined Parma in 2009, and made his debut for the club as a substitute at the age of 19 on 22 May 2011, in the final game of the 2010–11 Serie A season in a dead rubber against Cagliari, a match that ended 1–1.
Cesena
In June 2012, Cesena and Parma made a series of cashless player swaps, in which Defrel (€1.2 million) and Gianluca Lapadula (€1.4 million) went to Cesena, whilst Andrea Rossini (€1.6 million) and Nicola Del Pivo (€1.0 million) went to Parma. Both clubs retained 50% registration rights. In June 2013 and June 2014, Defrel's co-ownership was renewed. Despite Parma going bankrupted and failing to find a new buyer on 25 June 2015, Cesena submitted a bid of reported €51,000 to Lega Serie A to solve the co-ownership in favour of Cesena, despite the club not being required to do so.
Sassuolo
On 5 August 2015, Sassuolo announced that they had signed Defrel from Cesena for an undisclosed fee. He was given the number 92 shirt.
Roma
On 20 July 2017, Defrel re-joined former manager Eusebio Di Francesco at Roma on loan, for €5 million loan fee, with an obligation to make the transfer permanent for an additional €15 million (plus €3 million bonuses) should certain sporting targets be met. At the same time, Sassuolo signed Roma youth products Davide Frattesi and Riccardo Marchizza as part of the deal, for a total fee of €8 million.
Sampdoria (loan)
On 27 July 2018, Defrel joined Sampdoria on a season-long loan with the option to buy from Roma.
Sassuolo return (loan)
On 30 August 2019, Defrel returned to Sassuolo on a season-long loan deal.