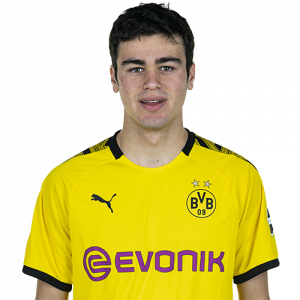 Giovanni Alejandro Reyna (born November 13, 2002) is an American professional soccer player who plays as an attacking midfielder for Bundesliga club Borussia Dortmund and the United States national team. He was included in The Guardian's "Next Generation 2019".
On January 18, 2020, Reyna made his Bundesliga debut for Borussia Dortmund, coming on as a substitute in the 72nd minute, in a 5–3 win against FC Augsburg. Hence, he became the youngest American, aged 17 years and 66 days, ever to appear in the Bundesliga, breaking a record previously set by Christian Pulisic.
On February 4, 2020, Reyna scored his first professional goal in a 3–2 defeat to Werder Bremen in the DFB-Pokal Round of 16. In doing so, he became the youngest goalscorer in German Cup history. On February 18, 2020, Reyna became the third-youngest player ever to appear in a knockout game of the UEFA Champions League when he came on as a substitute in the 67th minute against Paris Saint-Germain. Nine minutes later, Reyna set up Erling Haaland's game-winning goal for Borussia Dortmund in the first leg of the Round of 16, becoming the youngest American to play and record an assist in a Champions League fixture.
On May 16, 2020, Reyna was set to start his first Bundesliga match for Dortmund in their derby against Schalke, but suffered a calf injury during warm-ups. Reyna returned on May 23 and played in the final 11 minutes of a 2–0 victory at VfL Wolfsburg. On September 14, 2020, Reyna started in a DFB-Pokal match and scored with a free kick in a 5–0 win against MSV Duisburg. On September 19, 2020, Reyna scored his first Bundesliga goal in a 3–0 win against Borussia Mönchengladbach, aged 17 years and 311 days, to become the second youngest American scorer in Bundesliga behind Christian Pulisic, aged 17 years and 211 days.
On October 3, 2020, in his third league appearance of the 2020–21 season, Reyna assisted 3 goals—a brace to Erling Haaland and an Emre Can header from a corner kick, to beat SC Freiburg 4–0. As a result, Reyna became the first American to record a hat trick of assists in one of the 5 major European leagues since Steve Cherundolo did it for Hannover in March 2008, and the youngest player to ever do so in the Bundesliga.
On December 5, 2020, Reyna scored his second Bundesliga goal against Eintracht Frankfurt, with a near post finish just inside the 18-yard box. This goal made him the second youngest American to score twice in the league after current Chelsea winger Christian Pulisic did so for the same club as Reyna, Borussia Dortmund.
On December 22, 2020, he was voted the U.S. Soccer's Young Male Player of the Year for 2020.