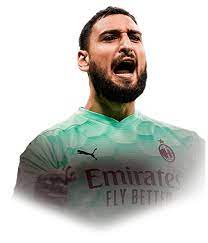 Gianluigi Donnarumma (born 25 February 1999) is an Italian professional footballer who plays as a goalkeeper for Serie A club Milan as vice-captain and the Italy national team.
He began his career with Milan in 2015, becoming the second-youngest goalkeeper ever to debut in Serie A, aged 16 years and 242 days; he immediately broke into the starting line-up, earning a reputation as arguably the most promising young goalkeeper in the world at the time. He also broke the record as the youngest Italy under-21 player ever to play, aged 17 years and 28 days in March 2016. Six months later, he made his senior international debut, becoming the youngest goalkeeper ever to appear for Italy, aged 17 years and 189 days.
Following the arrival of Pepe Reina during the 2018–19 season, manager Gennaro Gattuso announced that the two goalkeepers would share the role of starting goalkeeper across the club's competitions, with Donnarumma starting in Serie A, while Reina started in the Europa League. On 3 February 2019, Donnarumma was named man-of-the-match in Milan's 1–1 away draw with Roma in the 21st Round of the 2018–19 Serie A season, making five important saves. On 10 February, he made his 150th Milan appearance in a 3–0 home win over Cagliari in Serie A; as a result he became Milan's tenth-most capped keeper of all time, behind Christian Abbiati (380), Sebastiano Rossi (330), Dida (302), Lorenzo Buffon (300), Enrico Albertosi (233), Dario Compiani (221), Fabio Cudicini (183), Giovanni Rossetti (180), and Mario Zorzan (176).
During the 2019–20 season, Donnarumma maintained his place in the starting line-up. On 21 July 2020, he played his 200th game for the club in a 2–1 away win over Sassuolo in Serie A, during which he wore the captain's armband for the first time in his career, after Alessio Romagnoli was subbed off due to injury.