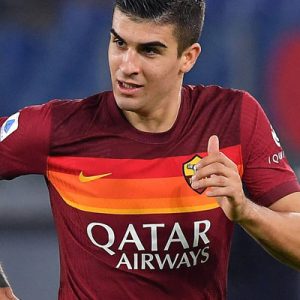 Gianluca Mancini (born 17 April 1996) is an Italian footballer who plays as a defender for Serie A club Roma and the Italy national team.
Perugia
Mancini left for Perugia on loan in mid–2015, with an option to purchase. Mancini made his professional debut in the Serie B for Perugia on 11 September 2015 in a game against Pescara.
Atalanta
In January 2017, Mancini and Alessandro Santopadre, son of Massimiliano Santopadre, chairman of Perugia, were signed by Atalanta for €200,000 and €1 million transfer fees respectively. They were immediately loaned back to Perugia from Atalanta. The deal was later accused by the prosecutor as a manipulation of transfer fees, which overstated the price-tag of Santopadre and understated Mancini. The chairman and both clubs were acquitted of any wrongdoing in July 2018.
Roma
On 17 July 2019, Mancini joined Roma on loan with a conditional obligation to buy for €13 million plus bonuses and a 10 per cent sell on fee.