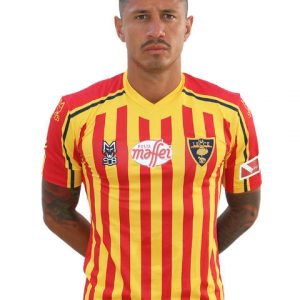 Gianluca Lapadula Vargas (born 7 February 1990) is a professional footballer who plays as a forward for Serie A club Benevento and the Peru national team. Born in Italy to an Italian father and a Peruvian mother, Lapadula has represented both Italy and Peru internationally.
Early career
Lapadula began his career with Juventus before releasing in 2004 because he was not doing well in his studies. After that he moved to Collegno Paradiso, then left on loan to Treviso in 2006.
Loans to Atletico Roma and Cesena
Lapadula made his debut for Atletico Roma on 8 August 2010, in the Coppa Italia preliminary round, lost in extra time (1–2). In January 2011, he left for Ravenna. He concluded the 2011–12 season as the topscorer in Group A with 24 goals.
Loans to Gorica and Teramo
Lapadula was loaned to Slovenian club ND Gorica on 1 July, along with Bright Addae, Daniele Bazzoffia, Uroš Celcer, Massimo Coda, Alex Cordaz, Sebestyén Ihrig-Farkas, Alen Jogan, Floriano Vanzo and Fabio Lebran. The deals were finalised on 12 July.
Pescara
After the bankruptcy of Parma Lapadula was released on a free transfer, and in July 2015 he was signed by Pescara in Serie B on a four-year contract. In the 2015–16 season he scored 30 goals in 43 appearances (including three goals in as many appearances in the playoffs), without scoring any penalties, earning the honour of top scorer in the Italian second division.
Benevento
On 2 September 2020, Lapadula signed with Benevento on a 3-year contract.