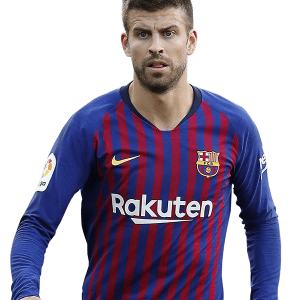 Gerard Piqué Bernabeu (born 2 February 1987) is a Spanish professional footballer who plays as a centre-back for Barcelona.
He is considered as one of the best defenders of his generation.
Originally one of the most promising students at La Masia, Piqué joined the Manchester United academy in 2004. He returned to Barcelona in 2008 under Pep Guardiola's leadership and helped the club win trebles in 2008–09 and 2014–15. He is one of only four players to have won the UEFA Champions League two years in a row with different teams, the others being Marcel Desailly, Paulo Sousa and Samuel Eto'o.
Piqué has also represented Spain 102 times, making his debut on 11 February 2009. He played an integral role in the Spain teams that won the 2010 FIFA World Cup and UEFA Euro 2012. He retired from the national team after the 2018 FIFA World Cup.
Return to Barcelona
On 27 May 2008, Piqué signed a four-year contract with Barcelona, with a €5 million buy-out clause. Barcelona paid a £5 million fee for the player. He expressed his joy at re-signing with his boyhood club, although he admitted he had enjoyed his spell at Manchester United:
I am very happy to be back, I didn't think I would be here again but this is very good for me. Manchester United is a great club and I enjoyed winning things. To play with world class players has helped me and now I want to continue this at Barça.
Piqué's first goal for Barcelona came in the club's 5–2 2008–09 UEFA Champions League group stage win at Sporting CP on 26 November 2008. His first domestic goal for the club followed two months later, on 29 January 2009, in a Copa del Rey match against local rivals Espanyol. The goal, which came from a corner kick in the 57th minute, turned out to be the game winner in a 3–2 victory for Barcelona. On 2 May 2009, Piqué scored Barcelona's sixth goal in a 6–2 El Clásico win against Real Madrid at the Santiago Bernabéu, which saw him produce a passionate goal celebration where he grabbed his Barcelona jersey.