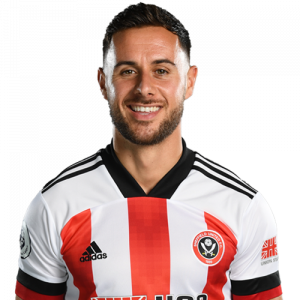 George Henry Ivor Baldock (born 9 March 1993) is an English professional footballer who plays as a right back for Premier League club Sheffield United.
Baldock was born in Buckingham, Buckinghamshire. He started his career playing for Milton Keynes Dons' academy team. His older brother Sam Baldock also played for the club.
On 29 July 2016, Baldock signed a contract extension with Milton Keynes Dons, keeping him at the club until the summer of 2018. On 26 November 2016, Baldock made his 100th appearance for the club in a 1–2 win away versus Coventry City.
On 13 June 2017, Baldock was reunited with former Oxford manager Chris Wilder when he joined newly promoted Championship club Sheffield United, on a three-year deal for an undisclosed fee. On 28 April 2019, Baldock saw the Blades secure promotion to the Premier League following a 12-year absence. On the 19 August 2019 Baldock signed a new 3-year contract at the club. On 12 December 2020, Baldock signed a new four-year deal with The Blades, keeping him at the club until 2024.