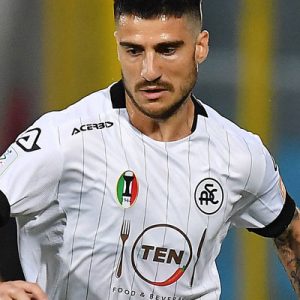 Gennaro Acampora (born 29 March 1994) is an Italian professional footballer who plays as a midfielder for Spezia.
Once the loan is over, Acampora returns to the La Spezia base again. After being out of action for the entire 2018-2019 season, during the following year the Neapolitan footballer returns to play fairly regularly under the orders of the new coach, Vincenzo Italiano: in this way, he brings his contribution to a memorable year for the La Spezia, who first obtained their best placement ever, finishing in third place in the final standings, and then hit their first, historic promotion to the top flight after winning the play-offs.
As a result, Acampora made his debut in the top flight on 4 October 2020, replacing Matteo Ricci in the 59th minute of the match against Milan at San Siro, then lost 3-0. Used mainly as a backup in the league, it takes away more satisfaction in the Italian Cup, in which the La Spezia players reach the quarter-finals before being eliminated by Napoli: on this occasion, the midfielder seals the short return to his hometown by scoring a goal and serving another to teammate Gyasi, thus making the defeat less bitter for his team (4-2).