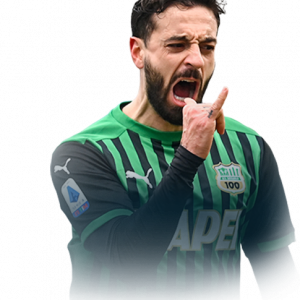 Francesco "Ciccio" Caputo (born 6 August 1987) is an Italian professional footballer who plays as a striker for Serie A club Sassuolo and the Italy national team.
Caputo started his career in the Pugliesi amateur divisions, first with Toritto and then with Real Altamura, before joining Bari in the summer of 2008. With the club, Caputo won the Serie B title during the 2008–09 season, but he was excluded from Bari's Serie A plans the following season. In mid-2009, he was loaned to Salernitana, along with his teammates Giuseppe Statella and Gianluca Galasso. The following season he was loaned out to Siena. He returned to Bari in 2011, and remained at the club for four seasons.
In 2015, he joined Entella on loan with an option to buy; at the end of the season, he was signed outright by the club. He remained with Entella for two seasons, scoring 35 goals.
On 18 August 2017, Empoli signed Caputo on a four-year contract for €2.8 million plus bonuses. He helped Empoli win the Serie B title and achieve promotion to Serie A during the 2017–18 season, forming a prolific attacking partnership with Alfredo Donnarumma; together, the pair scored 49 goals, and Caputo finished as the top scorer in the league, with 26 goals, while Donnarumma finished as the second-highest scorer with 23.
On 13 July 2019, Caputo signed to Sassuolo.