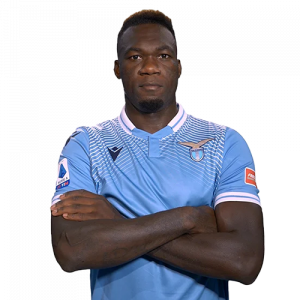 Felipe Salvador Caicedo Corozo (born 5 September 1988) is an Ecuadorian professional footballer who plays as a striker for Italian club Lazio.
A full international since 2005, he has represented Ecuador at the Copa América in 2007 and 2011, as well as at the 2014 World Cup. Caicedo is also Ecuador's fifth highest goalscorer of all-time with 23 goals to his name.
On 2 August 2017, Caicedo was signed by Lazio for €2.5million. He was given the number 20 by his new club. On 20 August, Caicedo made his league debut vs SPAL coming on as a substitute for Senad Lulić in the 85th minute. On December 3rd, he came off the bench to score his first Serie A goal in injury-time of Lazio's 1–2 away win over Sampdoria. Notably he continued scoring a series of extra time goals, six in total, which made him the player with most goals after the 90 minute mark in the history of Serie A. Along with the one to Sampdoria these goals include games against Cagliari (1-2), Sassuolo (1-2), Juventus (3-1), Torino (3-4) and Juventus (1-1), with the exception of the 1-1 with Juventus, all games that led to a Lazio victory. While playing for Lazio he won two Italian Supercup titles (2017, 2019) and one Coppa Italia (2018-2019). During the 2019-2020 Lazio became the club for which he played the most in his carrier.