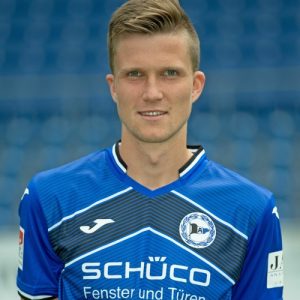 Fabian Kunze (born 14 June 1998) is a German professional footballer who plays as a midfielder for Arminia Bielefeld.
Fabian Kunze started his career at VfL Theesen in Bielefeld. From there he moved to the U-17s of FC Schalke 04 for the 2014/15 season, where he scored three goals in 23 Bundesliga games. Schalke's U-19 coach Norbert Elgert then saw no prerequisites for regular assignments, so that Kunze switched to SV Rödinghausen. As a youth player, Kunze made his debut in the first men's team in the fourth-class Regionalliga West, where he made eight appearances in the first team in the 2015/16 season. In the following seasons Fabian Kunze became a regular player in Rödinghausen.
The Rödinghausen-based company took part in the DFB Cup for the first time in the 2018/19 season. After Dynamo Dresden was beaten in the first round, the team failed in round two with 1: 2 at Bayern Munich. Kunze was named Player of the Game in the game after a strong performance by Kicker Sportmagazin. With Rödinghausen he won the Westphalia Cup in 2019 with a 2-1 victory in the final against SC Wiedenbrück. In the 2018/19 regional league season, Kunze and Rödinghausen finished third behind FC Viktoria Köln and Rot-Weiß Oberhausen. For Rödinghausen, Fabian Kunze completed a total of 105 regional league games in which he scored three goals.
In the summer of 2019, Fabian Kunze moved to the second division Arminia Bielefeld. There he made his debut on August 10, 2019 in the first round match in the DFB Cup at FC Viktoria Berlin, when he was substituted on for Jonathan Clauss. His first game in the 2nd Bundesliga then followed on November 3, 2019 against Holstein Kiel. Curiously, Kunze was substituted on again for Jonathan Clauss. With Arminia, he rose to the Bundesliga as second division champion in 2019/20.