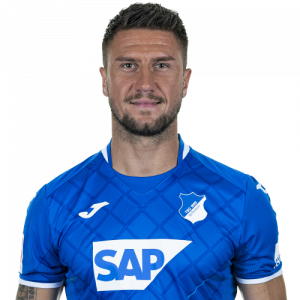 Ermin Bičakčić (born 24 January 1990) is a Bosnian professional footballer who plays as a centre back for Bundesliga club 1899 Hoffenheim and the Bosnia and Herzegovina national team.
Bičakčić started his professional career at VfB Stuttgart, playing mainly in its reserve team, before joining Eintracht Braunschweig in 2012. Two years later, he moved to 1899 Hoffenheim.
Bičakčić represented Germany and Bosnia and Herzegovina on youth levels, but decided to represent the latter on senior level. He made his senior international debut in 2013, earning over 30 caps since. Bičakčić represented the nation at their first major tournament, the 2014 FIFA World Cup.
On 20 May 2014, Bičakčić was transferred to 1899 Hoffenheim for an undisclosed fee. He scored on his official debut for the club in DFB-Pokal game against USC Paloma on 17 August. Bičakčić made his league debut against FC Augsburg on 23 August.On 4 February 2015, he scored his first league goal in a loss to Werder Bremen.
In September 2016, Bičakčić signed a new four-year contract with 1899 Hoffenheim.
Even though his playing time was limited, mostly because of injuries, Bičakčić helped the team make their first historical UEFA Champions League appearance in 2018–19 season. On 23 October 2018, he debuted in competition against Lyon.
Bičakčić played his 100th game for the club on 19 December 2018.
In May 2019, he extended his contract until June 2022.
In September 2020, he suffered a severe knee injury, which was diagnosed as anterior cruciate ligament tear and was ruled out for at least six months.