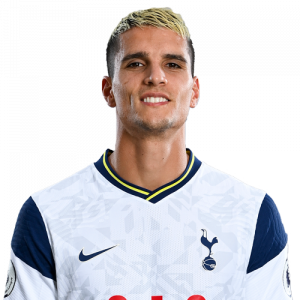 Erik Manuel Lamela (born 4 March 1992) is an Argentine professional footballer who plays as an attacking midfielder or winger for English Premier League club Tottenham Hotspur and the Argentina national team.
He began his career at River Plate and in 2011 transferred to Roma for an initial €12 million. After two Serie A seasons he joined Tottenham for a fee of £25.8 million. A full international since 2011, he was part of the Argentine squad which finished as runners-up at the 2015 and 2016 editions of the Copa América.
Erik Lamela was born on 4 March 1992 to Miriam and José Lamela in a northern suburb of Buenos Aires, Argentina. His family gave him the nickname "Coco". After he had joined River Plate as a seven-year-old, Barcelona reportedly offered Lamela and his family £100,000 a year, as well as a house and employment for his parents, to move to the city of Barcelona, in a similar deal to the one that saw Lionel Messi move to Spain as a youngster. In 2004, a Trans World Sport film crew travelled to Argentina to interview a 12-year-old Lamela who was already making headlines after scoring 120 goals for River Plate's youth side the previous season. In the video, Lamela declares his wish to follow in the footsteps of Diego Maradona and win a World Cup for Argentina.