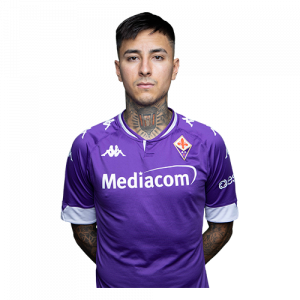 Erick Antonio Pulgar Farfán (born 15 January 1994) is a Chilean professional footballer who plays for Serie A club Fiorentina and the Chile national team.
Mainly a defensive midfielder, he can also play as a defender.
Deportes Antofagasta
Born in Antofagasta, Pulgar started playing 6 years in South West Miramar club. At 15 he was invited to a championship Minera Escondida, Playa Blanca juice for where was the 'professional' Carlos Carcamo, who approached the young player to come to try to cadets. In Miramar played Antofagasta created but newcomer was winger and left back. It was in the 16 sub center where he lay until now. Debuted in 2013 and then ah been a regular in the series. He is a tall, fast and loose player that covers the defense very well. He also has good passing game despite his thin body fight strongly above. In 2014 the decommissioning stressed again and this caught the revelation player of the season.
Universidad Catolica
On 28 June 2014, Deportes Antofagasta confirmed the transfer of Pulgar to Universidad Católica, for $400,000 US dollars for 70% of the player's rights. Pulgar signed a three-year contract.
Pulgar was the most outstanding player on a bad Universidad Católica half of 2014. After the arrival of Mario Salas starts playing in the position of the midfielder, where a prominent, even converting two goals in three games
Bologna
On 20 August 2015, Italian club Bologna signed Pulgar from Universidad Católica on a four-year deal for an undisclosed fee. He was given the number 5 shirt. On 11 January 2019, Pulgar extended his contract until 30 June 2022.
Fiorentina
On 9 August 2019, Pulgar signed for Fiorentina.