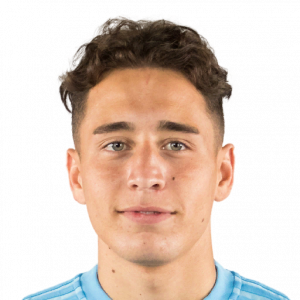 Emre Mor (born 24 July 1997) is a professional footballer who plays as a winger or a forward for Spanish club Celta Vigo and the Turkey national team.
Having played for Denmark internationally at youth level to the under-19s, he chose to represent Turkey in 2016.
Celta Vigo
On 29 August 2017, Mor signed for Spanish club Celta Vigo for €13 million. That made him the second most expensive signing in Celta's history.
He started just only one Liga game for the club and played only 384 minutes until mid December. On 17 December 2017, he was on the bench again for the loss against Villarreal while youth team player Brais Méndez filled in for the suspended Iago Aspas.
"Emre has to understand that technical skill is not enough to earn him more playing time. There are no miracles or coincidences. Mentally, he needs to change."
—Celta coach Juan Carlos Unzué explaining the lack of playing time being handed to Mor.
In April 2018, Mor was late for training before a home game against Sevilla after he had been excluded from the squad in two games. Unzué once again claimed, that Mor had to change his attitude before he again would be a part of the team.
Afterwards, Mor was sent to train on his own for a period. Less than one month later, in May 2018, Mor was sent home early from training for the second time in a month. Mor wasn't a part of the playing team for the remainder of the season.
The 2018/19 season started as the last season ended. In the first eight league games, Mor only played 38 minutes, despite Miguel Cardoso being appointed as the club's new manager. In January 2019, Mor was once again excluded from training because of his attitude and for acts of indiscipline. He was left out from the squad in the following eight league games and was excluded from the training in over one month. Celta gave the player one more chance at the end of February 2019, where he returned to first team training.