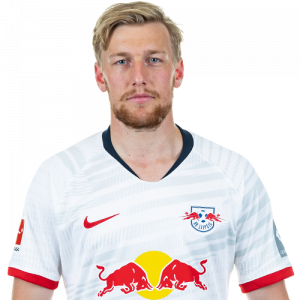 Emil Peter Forsberg (born 23 October 1991) is a Swedish professional footballer who plays for RB Leipzig and the Sweden national team as a winger.
Forsberg was voted the Swedish Midfielder of the Year in 2016 and 2017. He was a member of the Sweden squad that reached the quarter-finals of the 2018 World Cup. He is known for his quick, effective passing style, and is a creative playmaker renowned for his ability to create chances and assists.
RB Leipzig
In January 2015, Forsberg joined German second league side RB Leipzig on a three and a half year deal. In February 2016, he extended his contract until 2021. During the 2015–16 season Forsberg was voted the best player in 2. Bundesliga and in January 2016 Liverpool were reportedly eyeing Forsberg. In round three of 2016–17 Bundesliga Forsberg was named player of the round by Kicker. At the end of the 2016–17 season, Forsberg finished off as the highest assister in the Bundesliga and top 5 leagues in Europe with 22 assists, and made the Bundesliga team of the season. On 13 September 2017, Forsberg scored RB Leipzig's first ever Champions League goal in their first match ever in a 1–1 draw against Monaco.
In the 2019–20 season, he scored a brace in the stoppage time in a 2–2 draw against Benfica, to secure a place for RB Leipzig in the 2019–20 UEFA Champions League knockout phase, where they managed to reach the semi-finals. On 4 November 2020, Forsberg scored a goal in a 2–1 win over Paris Saint-Germain in the 2020–21 UEFA Champions League.