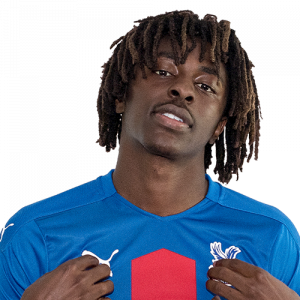 Eberechi Oluchi Eze (born 29 June 1998) is an English professional footballer who plays as an attacking midfielder for Premier League club Crystal Palace.
Eze was born in Greenwich, Greater London to Nigerian parents. Growing up, he reflected on his life, saying: "There are the nice parts [of Greenwich] and the not so nice parts. I grew up in a not so nice part. It wasn't the easiest life and you don't have as much as other kids around you. The first place we'd go after school is to the cage. We'd stay there till our parents called us in, not eating, playing all day and night. There wasn't really anything else to do. But that's where the love comes from. [At the time], you don't realise it's actually how you're learning your trade." Eze then met Bright Osayi-Samuel, his teammate during his time at Queens Park Rangers, at secondary school and played football together at the same district team.
Eze started his football career at Arsenal before being released when he was thirteen and then went on to join Fulham and Reading. Eze then appeared as a youth player at Millwall, where he signed a two–year scholarship with the club. Eze quickly progressed both the U18 side and the reserve side. It was announced in April 2016 that Eze would be leaving Millwall at the end of the 2015–16 season after not being offered a professional contract.